Starting in July, Bemidji State University will begin a four-year project to improve diversity in the nation's nursing workforce by offering significant scholarships and financial support to as many as 12 American Indian nursing students.
Bemidji State's Niganawenimaanaanig project — an Ojibwe word meaning "we take care of them" — is funded by a $499,887 grant from the U.S. Department of Health and Human Service's (HHS) Nursing Workforce Diversity program, which could extend to a total of nearly $2 million for three additional years based on available funding and satisfactory progress.
Niganawenimaanaanig will:
Expand current university resources to increases the number of American Indian students recruited, enrolled, retained and graduated from BSU.

Examine BSU's baccalaureate nursing program and determine revisions that may be needed to improve student diversity.

Create a formal gathering place for American Indian nurses and employ a full-time mentor for American Indian nursing students.

Establish systems that provide social, academic and financial support to American Indian nursing students.

Incorporate cultural teaching and activities to help connect students to the university and surrounding communities.
PRONUNCIATION GUIDE — Niganawenimaanaanig
(ni-gah′-nah-when-nee-mah-nah′-neg)
"At Bemidji State University, we believe that American Indian student success relies heavily on social, cultural, academic and financial support, and the Niganawenimaanaanig project exemplifies that belief," said Dr. Faith C. Hensrud, president of Bemidji State and Northwest Technical College. "We are committed to doing whatever we can to recruit, retain and graduate our American Indian students. With this project, that commitment will be evident as we take care of our students through their entire journey toward a degree in nursing."
BSU's grant is one of 29 distributed by the HHS Nursing Workforce Diversity program for 2017 valued at more than $13.16 million. HHS has been funding Nursing Workforce Diversity projects since 2012, and the Niganawenimaanaanig program is the first to be funded in the state of Minnesota.
The Nursing Workforce Diversity program aims to increase nursing education opportunities for individuals from disadvantaged backgrounds, including ethnic and racial minorities who are underrepresented in the registered nursing profession. While non-Caucasian people make up an increasing percentage of the American population, they comprise only a fraction of the country's nurses. Minority Nurse magazine reported that only 10 percent of the nation's registered nurses are minorities, and less than one-half of one percent are American Indians.
American Indian nursing students can begin taking advantage of BSU's program beginning this fall. The Department of Nursing hopes the program will help grow its American Indian enrollment to nearly two dozen over the course of the four-year project.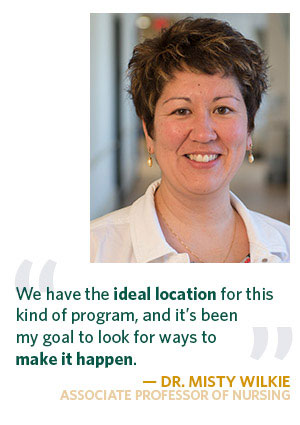 "Our goal is to increase the enrollment of American Indian nurses at BSU by 25 percent in the second year of the grant, by 50 percent in the third year and 75 percent in the fourth," said Dr. Misty Wilkie, an associate professor of nursing who led BSU's effort to secure the grant.
Wilkie has looked to student support programs for indigenous nurses at other universities, such as the Recruitment and Retention of American Indians into Nursing program at the University of North Dakota, where she earned her master's degree.
"I've wanted to bring that to Bemidji State because it's so needed," she said. "We have the ideal location for this kind of program, and it's been my goal to look for ways to make it happen."
Wilkie credited a team of BSU faculty and staff for supporting the grant-writing effort, which included Bill Blackwell, Jr., executive director of BSU's American Indian Resource Center, and nursing faculty colleagues including Jennifer Atteberry, assistant professor of nursing; Dr. Mary Fairbanks, associate professor of nursing; and Dr. Sheila Paul, associate professor of nursing and department chair.
"This is an amazing opportunity for Bemidji State and our nursing program," Blackwell said. "Bemidji State's goal is to be a destination college for American Indian students nationwide — students who seek out schools providing the level of support Bemidji State will now offer. The American Indian Resource Center is thrilled to be a part of this project, and we owe Dr. Misty Wilkie a huge debt for her leadership and tireless work to make this happen."
About the Niganawenimaanaanig project
Eligible students participating in Niganawenimaanaanig will receive scholarships valued at $4,000 — approximately one-half of BSU's annual tuition cost — and monthly $500 stipends for meeting specific program requirements such as weekly meetings and goal-setting sessions with a faculty mentor, participation in scheduled activities and attending tutoring or study sessions for courses in which they have a grade of C or lower. Students will also be provided with supplies required by the nursing program.
"Part of American Indian culture is feeling the need to contribute financially to your family," Wilkie said. "And oftentimes, students work so much that it interferes with their studying and prevents them from being successful. That's why we're giving the stipends – it will help students avoid needing to have jobs outside of school. Studying will be their job."
All program participants will travel to partner tribal nations in the Bemidji region to participate in cultural activities such as harvesting wild rice or maple sugar or gathering birch bark. In addition, six upper-class grant students will be selected to attend a national conference with the program's faculty leaders.
Students also will have opportunities to meet members of the National Alaska Native American Nurses Association's Board of Directors, traditional and Western medicine consultants , and an elder consultant who will provide students with a cultural mentor.
Wilkie said the cultural activities are an important aspect of student support that provide a sense of belonging to a larger community on campus.
"When our students move off the reservation and come to school, they miss their close-knit native communities," she said. "These activities will help connect them with other native students and provide that cultural support."
About the BSU Department of Nursing
Bemidji State University's Department of Nursing is a fully accredited program which has been providing baccalaureate-educated nurses to the northern Minnesota region for more than 30 years. BSU offers two tracks to complete a bachelor's degree – a four-year track for students just beginning their educations and a two-year degree completion program for students who already are licensed Registered Nurses with an associate's degree or diploma.
When it began its nursing program in 1983, BSU had single cohort in its Registered Nurse-to-bachelor's degree completion program. Now, with 18 full-time faculty, it has grown to support 240 students in six cohort sites across the state of Minnesota. In response to regional needs, BSU added a four-year pre-licensure program in 2007.
Contact
Dr. Misty Wilkie, associate professor of nursing, Bemidij State University; (218) 755-2715, mwilkie@bemidjistate.edu
Links