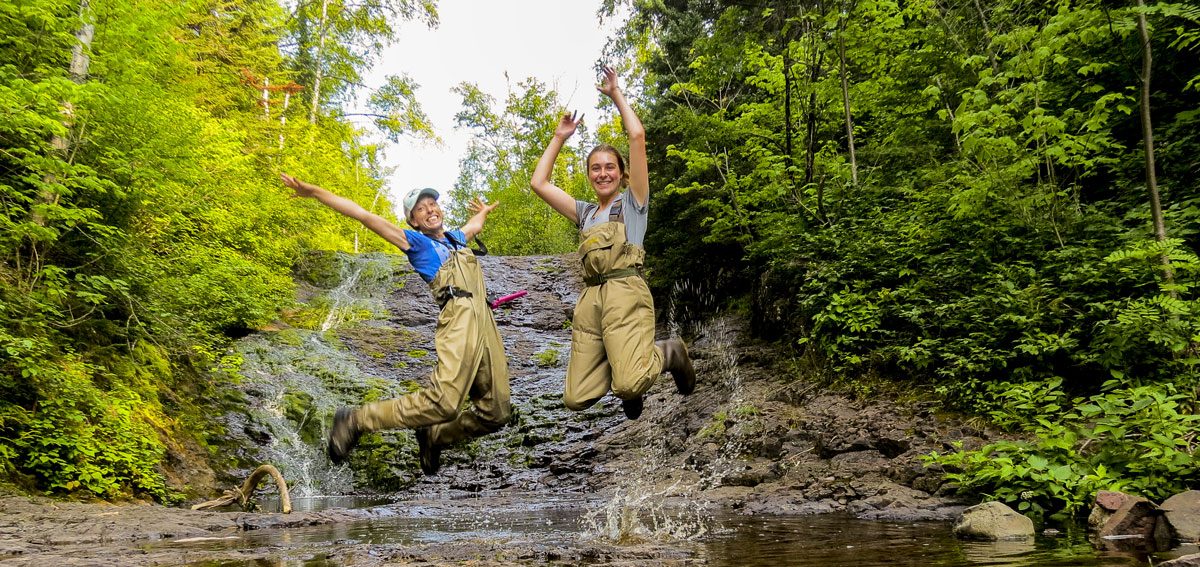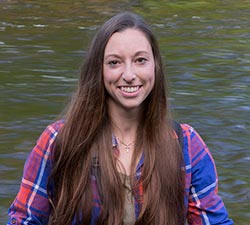 Kathryn Renik earned an undergraduate degree in wildlife and fisheries biology and management at the University of Wyoming before coming to BSU for graduate school.
"Fisheries have always been a big part of my life," she said. "I grew up on a trout farm in western Nebraska, and I'm excited to keep pursuing this. I love brook trout and this is a great opportunity."
Bemidji State University graduate student Kathryn Renik was published in the fall 2018 edition of DUN Magazine, a quarterly lifestyle publication geared toward women fly anglers. In her submission, "Casting Light on a Century-Old Controversy," Renik discusses her research and experience in the debate on whether beaver and brook trout can cohabitate.
Renik, who grew up on a trout farm in western Nebraska, graduated from the University of Wyoming in 2012 with a Bachelor of Science in fisheries. Upon graduating, she spent a year helping her dad raise trout and then a summer at an Alaskan salmon hatchery where she met Evan, her husband and kindred angler.
The couple moved to Minnesota in 2017 and Renik started to pursue her graduate degree in aquatic biology at BSU. She will graduate in 2019 and plans to continue her work to improve fisheries habitat.
In the summer of 2017, Renik and research assistant Kylie St. Peter, a then-senior aquatic biology major from Bemidji, analyzed 30 streams and 10 beaver habitats to kick off a two-year cooperative project between Bemidji State and the University of Minnesota Duluth. The project is funded by a $225,000 grant from the Legislative-Citizen Commission on Minnesota Resources. Dr. Andy Hafs, BSU associate professor of biology, works as the primary investigator, while Renik leads the field work. Renik returned to the North shore to complete her research in the summer of 2018.
About DUN Magazine


DUN Magazine is a lifestyle magazine geared toward the female fly angler. Created for women and edited by women, DUN has become the home base for anglers of all skill levels. With the goal of empowering women, not ignoring men, all anglers will find value in DUN magazine's articles focused on education, conservation, destinations and the fun of fly fishing. The magazine is also eco-friendly, made of recycled papers and vegetable ink.
Contact
Kathryn Renik, graduate student, biology, Bemidji State University; kathryn.renik@live.bemidjistate.edu
Dr. Andy Hafs, associate professor of biology, Bemidji State University; (218) 755-2789, ahafs@bemidjistate.edu
Links
---

Bemidji State University, located amid the lakes and forests of northern Minnesota, occupies a wooded campus along the shore of Lake Bemidji. Enrolling more than 5,100 students, Bemidji State offers more than 80 undergraduate majors and eight graduate degrees encompassing arts, sciences and select professional programs. BSU is a member of the Minnesota State system of colleges and universities and has a faculty and staff of more than 550. The university's Shared Fundamental Values include environmental stewardship, civic engagement and international and multicultural understanding. For more, visit bemidjistate.edu or find us at BemidjiState on most of your favorite social media networks.