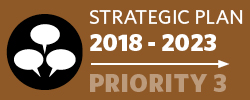 Bemidji State University marketing students taught by Dr. Angie Kovarik, assistant professor of business administration, held a mock trade show at Bemidji's downtown LaunchPad facility on Dec. 5. LaunchPad is a co-working space and hub for entrepreneurial support for the Bemidji region providing entrepreneurs, freelancers, start-ups and professionals an opportunity to collaborate. In place of its weekly Entrepreneur Meet-Up, LaunchPad invited entrepreneurs and members of the Bemidji community to explore student's academic work in trade show-style booths.
"Marketing students presented original product ideas that they have worked on throughout the semester using various marketing tools and techniques," Kovarik said. "They focused on the marketing mix, promotions mix, market segmentation and targeting, as well as sustainability and international expansion."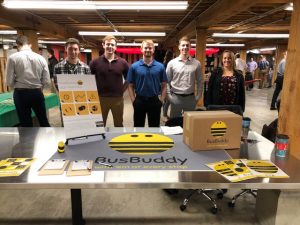 Bus Buddy student developers: Matt Notermann, Michaela Osborn, Zach Zaic, Zach Driscoll, and Wyatt Williams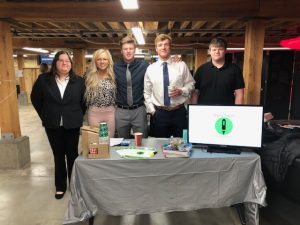 Highlight 100 student developers- Madonna Lossing, Riley Borgen, Owen Anderson, Bailey Nordeen, and Grant Bushinski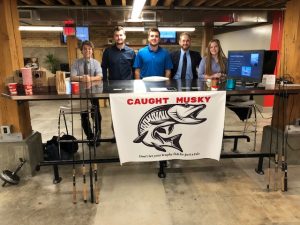 Caught Musky Net student developers- Michael Frederick, Ryan Erickson, Isaac Bleser, Sam Hansen, & Dan Nelson
Student groups engaged in a friendly competition sponsored by Entrepreneur Meet-Up members for best overall booth, best logo and best presentation.
"The entrepreneurs selected the Bus Buddy, the Highlight 100 and the Caught Musky Net as the winners and awarded the students gift certificates and the chance to come back and present at next week's LaunchPad Meetup," Kovarik said.
The Bus Buddy, a real-time tracking product placed on school buses allowing parents to track their child's commute to or from school, received the Best Overall award, sponsored by Bemidji's Skin Co. & Spa. The application tracks when buses leave homes or schools and can be programmed to send alerts to parents at preset intervals.
The Highlight 100, a new highlighting technology for note taking, received the Best Logo award, sponsored by Bemidji's Edward Jones – Financial Advisor, Karl E. Bleser. The Highlight 100 product will scan and copy written text from a book or notebook and send it directly to a USB. It then connects to any computer and can be accessed in a Microsoft Word document.
The Caught Musky Net, a new breed of netting solutions for musky anglers, received the Best Presentation award, sponsored by Bemidji's Kraus-Anderson. Most anglers lose large fish during the reel-in process when the fish gets near the wall of a boat. This
netting system allows anglers to fine tune the angle of a pre-deployed net by using a foot pedal, giving the angler full control while reeling in a large fish.
"The students always end up having a good time – even though they are nervous," Kovarik said.
Links
Contact
Dr. Angie Kovarik, assistant professor of business administration, (218) 755-4225 , angie.kovarik@bemidjistate.edu
---

Bemidji State University, located amid the lakes and forests of northern Minnesota, occupies a wooded campus along the shore of Lake Bemidji. Enrolling more than 5,100 students, Bemidji State offers more than 80 undergraduate majors and eight graduate degrees encompassing arts, sciences and select professional programs. BSU is a member of the Minnesota State system of colleges and universities and has a faculty and staff of more than 550. The university's Shared Fundamental Values include environmental stewardship, civic engagement and international and multicultural understanding. For more, visit bemidjistate.edu or find us at BemidjiState on most of your favorite social media networks.
2019-B-077