Listed below are job opportunities that can help bolster your resume and assist in developing valuable skills for your career in the field of chemistry.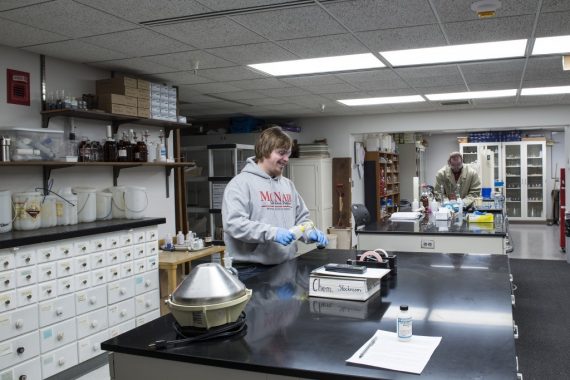 FAQ's
What is the Chemical Stockroom?
Bemidji State's chemical stockroom serves the Department of Chemistry by maintaining safe teaching and research laboratories and providing safe, accurate and efficient laboratory setups. We also strive to minimize chemical waste produced by the university.
Working in the chemical stockroom gives students who are interested in pursuing chemistry the opportunity to learn valuable skills that will be beneficial in industry, teaching, graduate school or wherever life takes them.
Benefits of Working in the Stockroom
Gain experience working with chemicals
Learn the protocols for hazardous waste management
Gain an in-depth knowledge of instruments used in the chemistry department
Learn how to prep and set up a teaching laboratory
Gain safety knowledge
Learn OSHA (Occupational Safety & Health Administration) requirements
Learn to write Standard Operating Procedures
If you are interested, please contact the college lab specialist, Dale Dreyer.
What Other Employment Opportunities Are Available?
For more chemistry-related employment opportunities, please contact Dr. Keith Marek, professor and department chair.
If you are interested in campus-wide student employment opportunities, check out Handshake, which is managed by Bemidji State's career services.
---