Developmental Adapted Physical Education (DAPE) prepares you to teach and empower people with a wide range of physical and developmental disabilities. You'll learn how to adapt and modify physical education activities to promote movement, health and well-being. Through our fully online program, you'll gain fundamental knowledge and hands-on experience in inclusive practice.
Why Choose DAPE
There are lots of reasons to choose DAPE at Bemidji State University, but here are our top three.
Flexibility
Bemidji State University offers the only 100% online licensure program in Developmental Adapted Physical Education (DAPE) in Minnesota. Our comprehensive coursework takes just 5 semesters to complete — making our program the perfect choice for undergraduates and in-service professionals.
"Working in a cohort model helped connect with other professionals. Completing an online format for coursework gave me the flexibility I needed to gain the DAPE license." — Carol, 2020 DAPE Licensure Graduate
Career Advancement
The minor prepares physical education teacher candidates to qualify for an add-on licensure approved by the MN Professional Educator Licensing and Standards Board (PELSB). The added licensure broadens their scope of practice within the K-12 schools of Minnesota to include ages 3-21 for students who qualify for DAPE.
"The program allowed me to work full-time and get my DAPE license. Building content knowledge of inclusive practices under the guidance of a licensed mentor with focus on real-life settings was exactly what I was looking for." — Chris, 2021 DAPE Licensure Graduate
Hands-On Learning
Practical hours are embedded into our course curriculum. You will have many opportunities to work directly with students in the community under the guidance of a licensed mentor.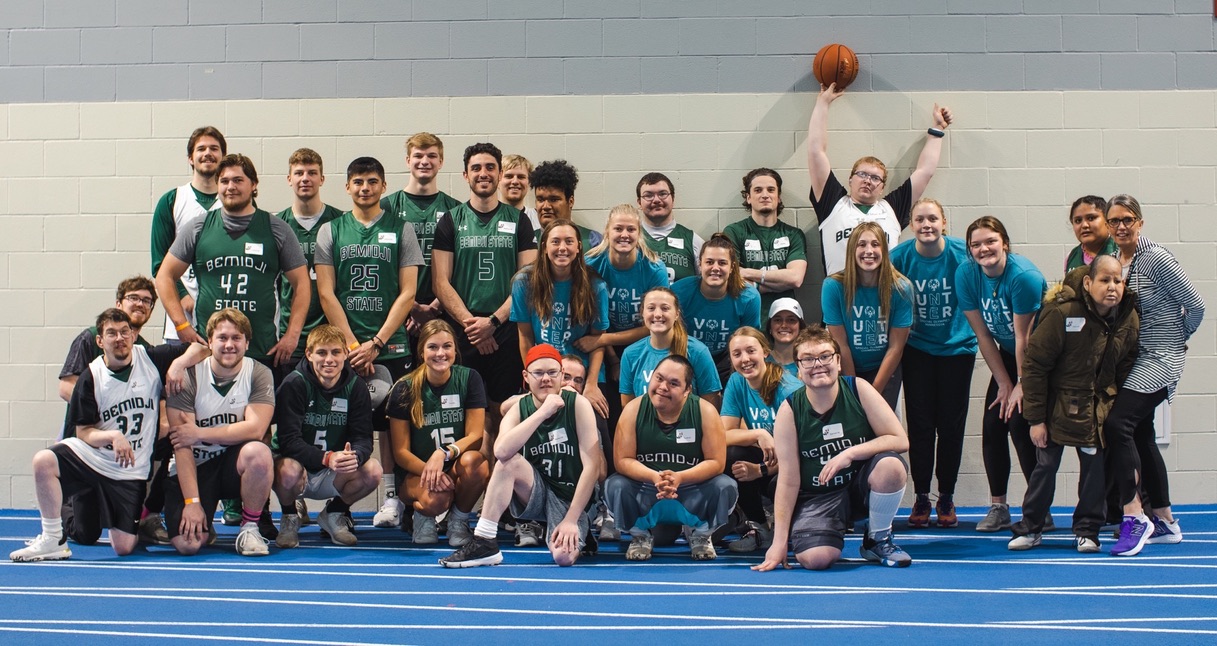 DAPE Curriculum and Requirements
Our cohort model program brings you together with other DAPE learners, creating PE-focused discussions that are directly relevant to your training or your advancing career. Students will work directly with highly experienced BSU faculty to ensure program readiness and completion.
Students are required to participate in two in-person meetings:
A mandatory program kick-off meeting in December/January and
A mid-program meeting the following August.
The DAPE content standards are met through successful completion of six courses (18 credits). In addition to these courses, candidates must meet content area reading standards and pass the MTLE Special Education Core Skills test for a full five-year DAPE license. DAPE content standards are completed through the following course sequence, and a new cohort will be started in the spring term of each year:
Note: Courses may be offered only once per academic year.
PE teachers licensed prior to 2013 who have not met the content reading standard must also complete ED 4737/5737 Content Area Reading. Students who have completed an equivalent course at another university must provide an official transcript showing an approved course substitution.
Consult the Course Rotation Guide for scheduling of specific SPED and DAPE sections.
DAPE Minor
For Bemidji State undergraduate students currently majoring in physical education, the DAPE minor prepares you for ages 3-21 DAPE licensure in Minnesota.
Consult with your PE major advisor, then add the minor using the Student Personal Data form and submit the form to the BSU Records office.
For Minn State undergraduates, please work with your adviser for transfer information and licensing through your university.
DAPE Licensure
Designed for current Minnesota licensed physical education teachers, this program leads to certification to instruct students with special needs in ways that meet their individual educational program goals in the physical education/movement setting.
You can complete the required courses at the undergraduate or graduate level. Please note: undergraduate credits will not be transferable to any future master's degree program you may intend to complete.
For Out-of-State Licensed Physical Educators, please work with your state licensing board for standards and criteria needed for your state.
How to Apply
To add this endorsement onto your existing K-12 physical education license, apply to BSU as a non-degree seeking student in the fall semester.
If you will be taking the courses at the graduate level, complete the BSU Graduate Application and select the following options:
Select the Spring term (this program starts only in the spring term).
Select "Graduate Certificate Student" for your educational intent, and the "part time" option.
Click the Add Program button, and choose "Graduate Licensure – DAPE, GC."
Submit official transcripts from external school(s) to the School of Graduate Studies.
Submit a letter of intent to the School of Graduate Studies, as part of your application.
After you submit your application, BSU Graduate Studies staff will contact you about your next steps.
Students working towards an initial K-12 Physical Education license may apply for acceptance into the Developmental Adapted Physical Education (DAPE) program after completing ED 5100, ED 5110, ED 5350, ED 5140 and ED 5780 as well as significant experience in PhyEd methods courses (focusing on content and pedagogy in dance and rhythm, elementary physical education, team and individual sports and fitness activities).
Admission to the DAPE program will be made by the Department of Human Performance, Sport & Health.
Contact Information
Sherry Holloway
Coordinator for DAPE Program
Location: Physical Education Complex 208
Phone: (218) 755-2223
Box #: 29
Email: sherry.holloway@bemidjistate.edu
---
Dr. Jim White
HPSH Department Chair
Location: Physical Education Complex 223
Phone: (218) 755-2766
Box #: 29
Email: jim.white@bemidjistate.edu
---