Samantha (Taube) McDaniel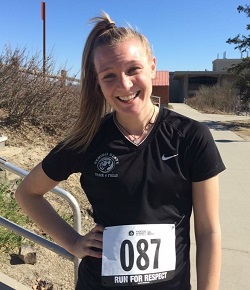 From double major to activity manager, Samantha McDaniel is doing what she loves every day.
Education
B.S. Community Health (2015)
B.S. Exercise Science (2015)
Health Education & Promotion Minor
Positions
Life Enrichment Manager (Activity Manager) and Volunteer Coordinator for Ecumen Bethany Community in Alexandria, MN
How did your education at Bemidji State University prepare you for what you are doing now?
"When I entered Bemidji State University in the fall of 2011, after graduating from West Valley High School in Fairbanks, AK, I … was on the road to becoming a teacher. I was familiar with teaching, so when I decided to change majors and my career path a year and a half later, I was truly at a loss. Professors, advisors and a practicum at the Bemidji Adult Day Services, opened my eyes to a different yet equally rewarding profession. When professors learned about my interest in working with older adults, they would go out of their way to provide extra knowledge for me that would benefit my future. The required practicum and internship were the most helpful through hands-on experience and networking which opened the door for the position I have today."
Is there one aspect of your current job you find particularly interesting, challenging or rewarding?
"When people think of nursing homes, their minds tend to draw up this solemn, institution-like setting, where seniors go when they or their families can no longer care for them. That is not the case! Breaking down that stereotype is one of the major challenges in explaining what I do for a living. As an activity manager, I spend my 40+ hour work week developing and implementing activities not only appropriate for a variety of older adults, but also meaningful, entertaining and enjoyable. This can range from large group entertainment such as music, or art classes, to one on one time with an individual usually visiting or reminiscing.
As the population ages, the senior care industry adjusts to meet the needs of those aging. Many individuals are able to stay in their homes or home-like settings longer, which is wonderful, yet when they do come to live in a long-term care home, they are much sicker than residents use to be, meaning our activity choices must change to meet their needs. This means more individualized activities specific to one person. While this is another challenge, it is a lot of fun and really rewarding to get to know people, what they like and who they are."