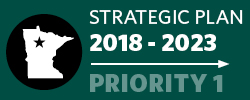 In celebration of the university's 100-year anniversary, the Bemidji State University Wind Ensemble debuted  "Ningabii'anose," (▶ listen) a centennial fanfare composed by Robert Thurston, at the 2019 Minnesota Music Educators Association's (MMEA) Midwinter Clinic.
The annual clinic, held Feb. 14 at the Minneapolis Convention Center, brought together middle school, high school and college-level music educators and students from around the state for a series of concerts, seminars and master classes. Groups performing at the clinic are selected through an audition process, and the Wind Ensemble was performing for the first time since 2005.
Alex Burkle, a senior from Badger, Minn. who plays trumpet in the ensemble, said the performance was a gratifying reward for the long hours spent preparing for the event.
"The performance felt rewarding because we had been working on this music for so long," he said. "It was nice to finally perform it for the audience that we were preparing it for."
Scott Guidry, assistant professor of music and BSU's director of bands, commissioned Thurston to compose "Ningabii'anose" when the ensemble was invited to perform at the clinic.
"Symbolically speaking, I wanted to celebrate the human spirit," Thurston said. "The melody rises, dips and rises again, pulled upward by swirls of woodwinds with muted trumpets echoing the opening declamation as encouragement. It's an inner drive that propels the rider along a course perhaps unseen, toward a destination perhaps unknown."
The piece was originally titled "Bemidji State University Centennial Fanfare." However, after listening to and performing the piece Wind Ensemble students told Guidry it reminded them of ice crystals in mid-air. Guidry worked with Dr. Anton Treuer, BSU professor of indigenous studies, and the American Indian Resource Center to translate "icicles in mid-air" into the Ojibwe language. The final translation was "Ningabii'anose."
While the BSU Wind Ensemble has a history of performing pieces composed by Thurston, "Ningabii'anose" was the first piece written specifically for Bemidji State University.
"This was a unique opportunity that doesn't come along very often, and the Wind Ensemble rose to the occasion," Guidry said. "It's always exciting to be the first to play a piece of music — and I think the students were excited, too. The piece will be published sooner or later and on every piece it will say 'for Bemidji State University Centennial,' and it will live on forever."
Dr. Thomas L. Swanson, BSU professor emeritus of music, was also invited to the clinic to conduct "The Gallant Seventh," composed by John Philip Sousa, as a nod to the past.
"It was a memorable night with a premier performance, an appearance by the composer, the welcoming back to the podium of a legendary BSU band director and an enthusiastic standing ovation at the concert's conclusion," Guidry said. "The students peaked at just the right time, and I am so incredibly proud of their preparation efforts and performance focus. I am also grateful to the music department faculty and staff and to the BSU administration for their steadfast support from start to finish."
Wind Ensemble MMEA Program
"Ningabii'anose," composed by Robert Thurston
"Early Light," composed by Carolyn Bremer
"The Solitary Dancer," composed by Warren Benson
"The Gallant Seventh," composed by John Philip Sousa
"Lament for Wind Orchestra," composed by Chang Su Koh
"Instinctive Travels," composed by Michael Markowski
About Robert Thurston
Robert Thurston is the retired chief arranger for the United States Air Force Band in Washington D.C. He served with the band for the entirety of his 20-year career. He wrote custom arrangements and original pieces for the military's finest musicians and wrote for every ensemble the band supports, including its wind band, orchestra, chorus, studio orchestra, strings, jazz ensemble, brass band and chamber groups. Thurston currently composes for marching bands and college and university bands as well.
Contact
Links
---

Bemidji State University, located amid the lakes and forests of northern Minnesota, occupies a wooded campus along the shore of Lake Bemidji. Enrolling more than 5,100 students, Bemidji State offers more than 80 undergraduate majors and eight graduate degrees encompassing arts, sciences and select professional programs. BSU is a member of the Minnesota State system of colleges and universities and has a faculty and staff of more than 550. The university's Shared Fundamental Values include environmental stewardship, civic engagement and international and multicultural understanding. For more, visit bemidjistate.edu or find us at BemidjiState on most of your favorite social media networks.
2019-B-000