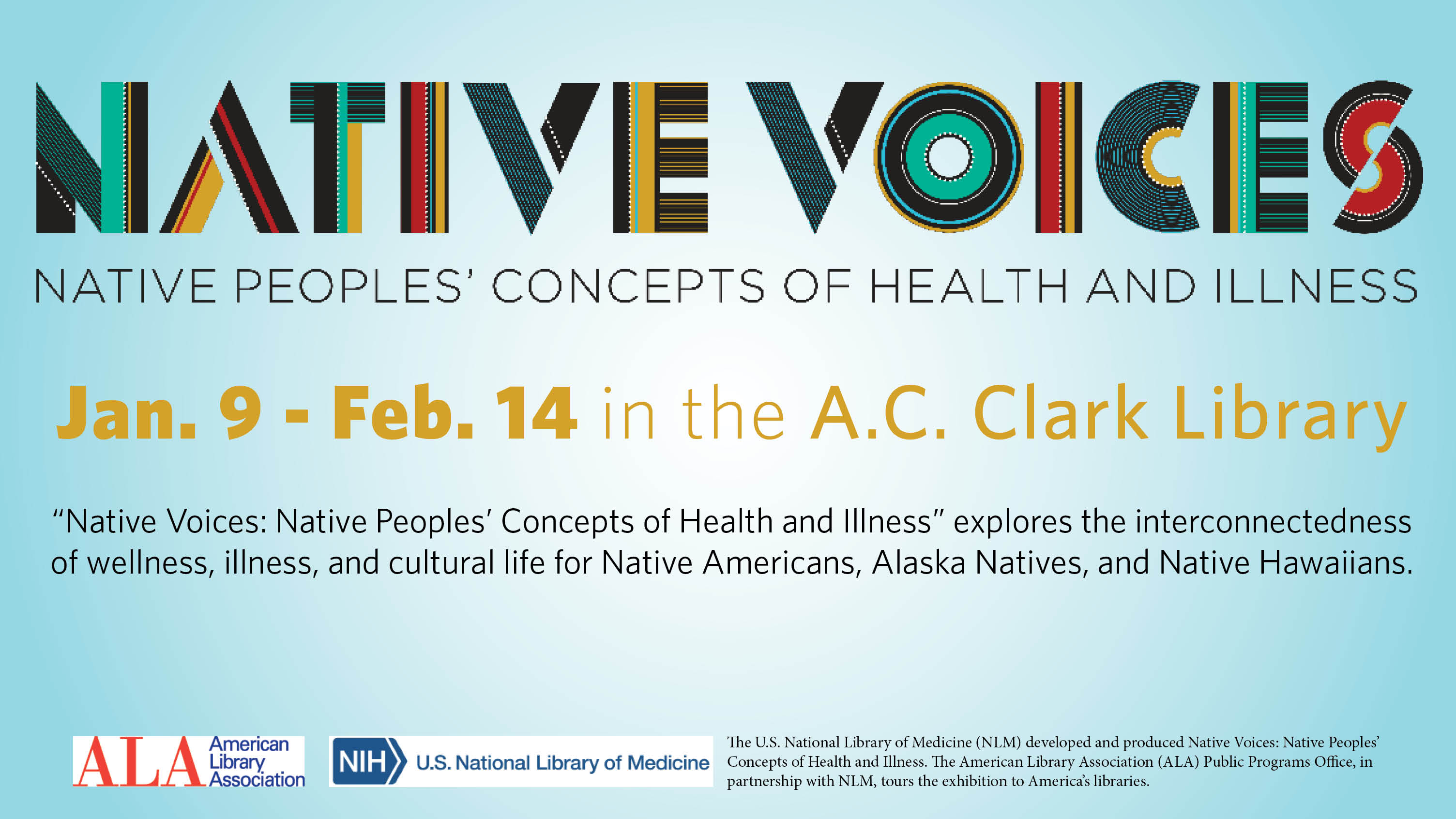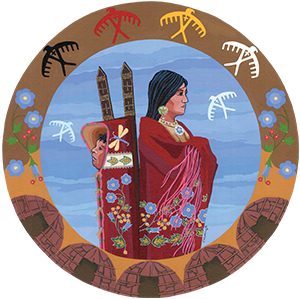 Bemidji State University's A.C. Clark Library has been selected as one of only 104 libraries nationwide that will host a traveling exhibit exploring the concepts of health and illness amongst native peoples.
The exhibit, entitled "Native Voices: Native Peoples' Concepts of Health and Illness," explores the interconnectedness of wellness, illness and cultural life for Native Americans, Alaska Natives and Native Hawaiians. Stories drawn from both the past and present examine how health for indigenous people is tied to community, the land and spirit. Through interviews, indigenous people describe the impact of epidemics, federal legislation, the loss of land and the inhibition of culture on the health of indigenous individuals and communities today.
The A.C. Clark Library will host the traveling exhibition for a six-week loan during its tour of the country, which started in February 2016 and continues through June 2020. The library will also receive a $250 programming grant, virtual training and publicity materials.
"We are so pleased to bring to National Library of Medicine's fascinating exhibition to Bemidji State University's A.C. Clark Library," said Randy Westhoff, associate vice president for academic affairs and library administrator. "We hope the Native American communities in our region will take pride in the exhibition and that all visitors will enjoy learning about these powerful concepts."
Bemidji State will host several events throughout the duration of the exhibit including an opening reception Jan. 15 from 3:30–6:00 p.m. in the library.
On Jan. 26, Devery Fairbanks, professor of indigenous studies at Red Lake Nation College, will share Wenebozho stories at the exhibit from 2–3 p.m. In traditional Anishinaabe storytelling, or "aadizookaan," Wenebozho is a trickster figure and cultural hero frequently mentioned in cautionary tales.
On Feb. 7, BSU's American Indian Resource Center will host a panel discussion focused on Native American health topics from 4-5 p.m. All are invited to attend.
"Native Voices" is developed and produced by the U.S. National Library of Medicine, which has partnered with the American Library Association Public Programs Office to coordinate the exhibit's national tour.
Contact
Patrick Leeport, assistant professor, Bemidji State library services; (218) 755-2957, patrick.leeport@bemidjistate.edu
Dianne Narum, cataloging and government documents librarian, A.C. Clark Library; (218) 755-3340, dianne.narum@bemidjistate.edu
Links
---
About the American Library Association

The American Library Association is the oldest and largest library association in the world, with approximately 55,000 members in academic, public, school, government and special libraries. The mission of the American Library Association is to provide leadership for the development, promotion and improvement of library and information services and the profession of librarianship in order to enhance learning and ensure access to information for all.
---
About the National Library of Medicine
The National Library of Medicine (NLM), on the campus of the National Institutes of Health in Bethesda, Maryland, has been a center of information innovation since its founding in 1836. The world's largest biomedical library, NLM maintains and makes available a vast print collection and produces electronic information resources on a wide range of topics that are searched billions of times each year by millions of people around the globe. It also supports and conducts research, development, and training in biomedical informatics and health information technology. In addition, the Library coordinates a 6,000-member National Network of Libraries of Medicine that promotes and provides access to health information in communities across the United States.
---

Bemidji State University, located amid the lakes and forests of northern Minnesota, occupies a wooded campus along the shore of Lake Bemidji. Enrolling more than 5,100 students, Bemidji State offers more than 80 undergraduate majors and eight graduate degrees encompassing arts, sciences and select professional programs. BSU is a member of the Minnesota State system of colleges and universities and has a faculty and staff of more than 550. The university's Shared Fundamental Values include environmental stewardship, civic engagement and international and multicultural understanding. For more, visit bemidjistate.edu or find us at BemidjiState on most of your favorite social media networks.
2019-B-082