The pre-licensure track degree is four academic years long and includes both general courses and nursing-specific courses. Students apply at the beginning of their sophomore year and begin the program in spring.
This student-orientated program is designed to mentor students from novice learners to clinical professionals. Faculty work with each student individually to:
Map an educational path
Identify areas of interest for specialization and further education.
Review potential career options.
Interested students should be aware that once accepted to the program; they will be required to have a laptop with a working camera and speakers, a minimum 8 GB hand-held device and other supplies. The department provides accepted students with a list of items to acquire and steps to take for clinical eligibility.
Your Next Steps
Apply for Financial Aid (if necessary).
Enroll in Intro to Professional Nursing (NRSG 2000) for the fall semester.
Submit your Pre-Licensure application between August 15 – September 15. Decisions will be sent out mid-October.
Contact the Nursing Student Services Coordinator to register for classes.
| Pre-Licensure Program Specifications | Applying to the Pre-Licensure Program |
| --- | --- |
| | |
For more information on the courses in this program, visit the course catalog.
Contact
Get in touch with the Nursing Student Services Coordinator if you have any questions about the pre-licensure program, submitting your application, registering for courses and everything in between!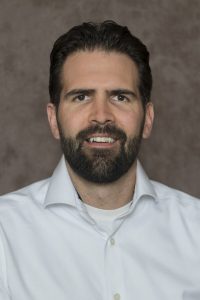 Michael Simpson
Nursing Student Services Coordinator
Location: Bensen Hall 223
Phone: (218) 755-2486
Email: michael.simpson@bemidjistate.edu
Frequently Asked Questions
The pre-licensure track is NOT an online program.
Admitted students begin the program in spring of their sophomore year. The program takes 5 semesters to complete.
Yes! — but transfer students must be admitted to BSU prior to applying to the nursing major. Any prerequisite courses transferred from another school must be formally approved by the nursing department. If you have any questions as to whether courses are considered equivalent, please work with the Nursing Student Services Coordinator.
Any student can apply provided they've met the application requirements. Many of our first-year students come to BSU with close to a year's worth of college credit, so it may be possible to apply the fall semester after your high school graduation. If you're a junior or senior in high school and you think that may apply to you, please contact the Nursing Student Services Coordinator.
Between 50 – 60.
Our acceptance rate depends on the total number of applicants.
Yes, students may reapply ONCE in a future year.
We accept applications from August 15th to September 15th only. This means any student who is planning to apply should make sure application materials are ready by mid-August.
You only need to show proof that you've completed the class. Although getting certified and working as a CNA is great experience for nursing, the department wants applicants to have taken the class for the skills you learn. It's up to the applicant whether they want to get certified.
Bemidji and the surrounding areas.
Yes, the Community Health course and corresponding clinical experiences will allow you to apply within your state's Board of Nursing upon graduation.
We do not have an accelerated LPN-BSN program. LPNs are welcome to apply, but they will need to fulfill the same requirements as other students.
We do not have an accelerated program; however, a prior Bachelor's degree means that the student will have already met the liberal education requirement.
---