What does it mean to live in a place, and how does where you live impact your own identity and sense of self? Dr. Timothy Goodwin, assistant professor of professional education at Bemidji State University, uses the natural beauty of the Northwoods as a vehicle to explore these questions in his new book, "Within These Woods."
"This book is about discovering your ecological identity," Goodwin said. "That means going further than environmental literacy, so I understand where I live and I understand my impact on the environment. What does it mean to live in a place?"
The book is a thematic collection of Goodwin's poems, essays and artwork meant to provide Goodwin's answer to the broad question of how he, as a human being and a member of a globally interconnected ecosystem, ought to live in the world. On his path to that answer, he reflects on the elegance of evolution and the interconnectedness of all living things.
"My family has had a cabin since I was 12 or so in northern Wisconsin," he said. "I wanted to explore that place and the people who live in that place. I decided to do that by exploring one species at a time. Each chapter looks at a specific organism and tells a bit about its natural history, how it evolved, how it lives, and what connections it might have to the people who have lived in the area."
As an example, in a chapter about beavers Goodwin explores the creation story of how the beaver got its flat tail, as told by the Ojibwe people, and the relationships that formed as a result of connections between beavers, the Ojibwe and French fur trappers. He also relates a story of his first visit to northern Minnesota as an undergraduate student, and how frozen beaver corpses obtained from a local trapper played a role in an outdoor research project.
"So there's a memoir component to the book as well," he said. "Starting from the organism and its natural history, what are the lessons I can take from this? How does this define who I am in these woods?"
While reveling in the complex relationships found in the ecosystem around us, Goodwin also explores difficult questions about stewardship, spirituality and sustainability that he says can only be answered by examining our own personal connection with nature.
"For the past 40, almost 50, years since the first Earth Day, we have exponentially increased the amount of environmental education we provide to students," he said. "But it didn't work. We know more, and yet politics get in the way and we don't even accept the science about some of these things because it's too hard. As a society, we have no real developed ecological identity."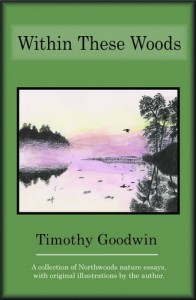 In "Within These Woods," Goodwin not only defines his own ecological identity, but also provides a narrative foundation upon which his students can carve out their own identities. Establishing those identities, Goodwin says, will help his students understand and then bridge the gap between knowledge and wisdom.
"We don't have reason to learn things until we have a reason to incorporate them into our worldview," he said. "So it's really a philosophical foundation we need to provide to students — to ask 'what does this mean to you?' Ultimately, we want our students to know how they want to live in the world."
"Within These Woods" is published by Bemidji-based Riverfeet Press. It is available for purchase locally at Bookworld and Big River Scoop and online at Riverfeet Press and Amazon.
---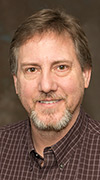 About Dr. Tim Goodwin
After teaching secondary science for 20 years, Dr. Tim Goodwin now serves as chair for Bemidji State's Department of Professional Education. His research involves environmental education, ecological literacy and ecological identity, and his work has led to the development of a unique, thematic biology curriculum being tested in two independent schools.
In addition to teaching, writing and illustrating his Northwoods experiences, he is also a musician. Goodwin's writing, samples of his music and his academic work can be explored at timothygoodwin.net.
Goodwin earned a bachelor's degree in biology from St. Olaf College and has master's and doctorate degrees in education from Hamline University. He lives in Bemidji with his wife and two children.
Riverfeet Press
Riverfeet Press is a small publishing house located in Bemidji, Minn., specializing in nature-based fiction and non-fiction titles.
Contact
• Dr. Timothy Goodwin, assistant professor of professional education, Bemidji State University
Links
• Riverfeet Press
• Dr. Timothy Goodwin
• "Within These Woods" on Amazon