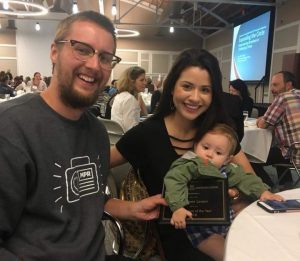 Larson, class of '18, graduated magna cum laude from Bemidji State University with a bachelor of science in social work.
Ben Larson, a Bemidji State University social work '18 alumnus, was named the National Association of Social Workers (NASW) Student of the Year for 2018. Larson was nominated by Kenneth Turck of Crow River Family Services.
Each year, the National Association of Social Workers Minnesota Chapter chooses one to two students who are in an accredited social work program and recognizes them for their achievement in education and in the field of social work.
The award honors a member of the NASW who exemplifies the best of the profession's values and achievements through their accomplishments in the classroom and the field. In honoring a social work student, NASW highlights superb accomplishments in the practice of social work. The criteria include making a demonstrable difference in the areas of advocacy for clients, demonstrating outstanding leadership, taking risks and contributing to a positive image of the social work field.
Larson received this award for inspiring those who have the opportunity to work with him, providing opportunities for inclusion and modeling rich social context around social and economic justice and food security in outstate Minnesota. As an AmeriCorps Volunteer, Larson also helped Burmese, Karen and Somali refugees explore options in housing, employment and economic development. In addition, Larson partnered with landlords, mental health service providers and vocational programs to support individuals in Kadiyohi County.
"Ben communicates and interacts with integrity as he serves to empower minority youth through education, work experience, and exposure to local entrepreneurs. He exemplifies what honoring the dignity and worth of each person, and valuing the importance of human relationships looks like in practice, for which we are forever grateful," wrote Kenneth Turck wrote in his nomination letter.
"I'm not someone who seeks out recognition or awards, I would much rather just do work in the background," said Larson. "But, it was cool to have validation that my work was making a difference. It was also validation that I made the right choice attending BSU online and continuing to work full-time in my field."
Larson said the best part of completing his degree online was his ability to apply what he was learning directly to his work.
"For example, as I was doing research and literature review on food deserts in Professor Byers course and getting feedback on my research, I was applying that directly to my community work in addressing food disparities in low-income families and individuals," said Larson. "While I was doing my senior capstone project in Professor Hoffman's course and writing objectives and outcomes for grants, I was able to use the feedback and actually apply for grants and contracts for the non-profit that I co-founded. With the feedback that I received from instructors, I was able to not only start a non-profit called MNYou but was able to fund the programs and interventions to combat food inequality in my community."
In addition to his dedication in the field, Larson was a stand-out student during his time at Bemidji State, graduating with honors in 2018.
"Ben was constantly applying everything he was learning throughout his time in the Social Work Integrative Model (SWIM) program," said Dr. Rebecca Hoffman, BSU assistant professor and director of field education. "His contributions to class discussions and his written work reflected a deep commitment to social justice with and on behalf of marginalized communities. Ben embodies everything it means to be a social worker. Not only does he strive to improve the lives of individuals, he also strives to improve the systems that oppress and marginalize people."
Right now, Larson works full-time for the State of Minnesota as a skills development specialist assisting individuals with disabilities in finding integrated community employment. He also runs his non-profit, MNYou Youth Gardens, a youth-driven, Minnesota non-profit focused on creating social entrepreneurial opportunities around growing, marketing, and selling sustainable produce locally for diverse groups of youth in and around the Willmar, Minn. area, owns a commercial cleaning company with his wife and cares for 60 beehives. Larson continues to be involved with anti-racism events and politics on a local level, which he started advocating for during his time at Bemidji State.
"Advocacy was also stressed throughout my time at BSU. While I put this into daily practice, advocacy came to the forefront during my time at BSU when a local politician starting supporting racist Facebook posts. I felt prepared and ready to stand up to racism by what I learned at BSU. I was also encouraged by my instructors who gave me support during this incident," he said.
As a member of the Kandiyohi County Human Rights Commission, Larson has addressed the Willmar City Council to call for justice for those marginalized and oppressed by bigotry, racism, and misogyny and against injustices perpetrated against them.
Larson has plans to continue his education and receive his masters in social work within the next year while continuing his work.
Contact
Links
About BSU's Social Work Program
Bemidji State University's social work department provides community engaged learning activities within a four-year degree program. Opportunities range from volunteering at the food shelf with the social work club to engaging in a 60-hour field experience to completing the degree with a 480-hour internship in a human service organization.
The interactive 2018 – 2019 BSU Social Work Student Guide is a detailed source of information about the BSU Department of Social Work and contains information about admissions, curriculum, special programs, scholarships and more.
---

Bemidji State University, located amid the lakes and forests of northern Minnesota, occupies a wooded campus along the shore of Lake Bemidji. Enrolling more than 5,100 students, Bemidji State offers more than 80 undergraduate majors and eight graduate degrees encompassing arts, sciences and select professional programs. BSU is a member of the Minnesota State system of colleges and universities and has a faculty and staff of more than 550. The university's Shared Fundamental Values include environmental stewardship, civic engagement and international and multicultural understanding. For more, visit bemidjistate.edu or find us at BemidjiState on most of your favorite social media networks.
2019-B-058