Hybrid BSW
BSU's hybrid BSW, the Social Work Integrative Model (SWIM), has been recognized as the nation's eighth-best hybrid social work degree in the U.S.! The hybrid track is designed to allow students more flexibility than the on-campus program without compromising access to the same fully accredited degree program.
The hybrid BSW track is delivered in a cohort-style format, with the same group of students taking all coursework together on a preset schedule. Students come to campus approximately one Saturday a month while the rest of their education is delivered synchronously and asynchronously online. A new cohorts start each year in the fall.
At the end of the program, students complete a 480-hour internship in a human service organization. This internship can be completed within your hometown community either full-time in one semester or part-time over two semesters.
Our Distance Learning Student Advisor, Ching Olson, is a great resource for questions about transfer course work, what you can do with a degree in social work or how to get started! She can be reached at ching.olson@bemidjistate.edu.
You can also reach out to the SWIM Program Coordinator Emily Paine for any questions to you may have!
For more information about the courses in this program, check out the course catalog.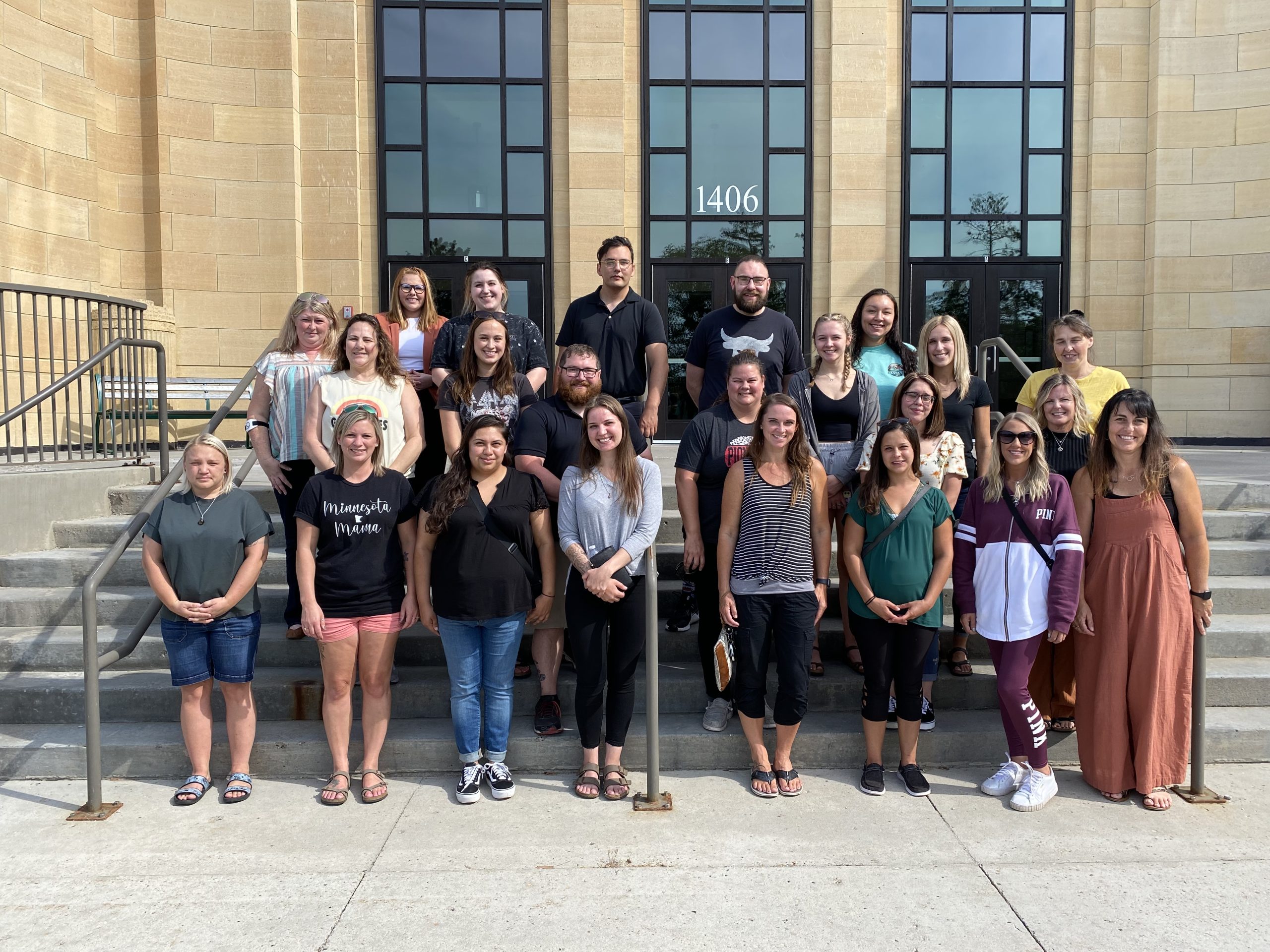 There is a reason this program is ranked so high in the nation, and I feel honored to be a part of it. You continually challenge me to think outside the box and have shown me how to see so much from different 'views…. Thank you for that and your dedication for preparing me for the future. You and the other instructors are truly amazing.

– Amy K., Class of '18
Timeline for Courses
Fall 2023
Spring 2024
Summer 2024

Interpersonal Relations
Human Behavior in the Social Environment I
Human Behavior in the Social Environment II

Generalist Practice I
Research Seminar

None

Or General Electives, or course for a minor

Fall 2024
Spring 2025
Summer 2025

Generalist Practice II
Social Welfare Policy

Generalist Practice III
Family Dynamics & Intervention
Internship Orientation

Internship
Prospective Student Inquiry
Please send me more information about the following Social Work degree options at Bemidji State University:
"*" indicates required fields
Frequently Asked Questions
Our program is considered a hybrid program. In contrast, most coursework is completed mainly through the online platform. We host four in-person Saturday class sessions on the BSU campus every semester. We accept 30 students every year to start the core classes of our hybrid program after completing the admissions process. Faculty have found that allowing smaller cohort sizes encourages a tighter-knit community to develop amongst peers. Several of our courses have assignments that replicate practical applications in the field. It also allows each professor to encourage individual growth and feedback.
Department faculty utilize the in-person class sessions to integrate the course curriculum into practice. The time is used to encourage group discussions with cohort members, help field questions about the material being covered and allow the student to process through what you are learning.
The Center for Extended Learning has provided a nice overview of what online learning can look like. This link is what to expect from online learning.
After you are accepted to BSU and Degree-Audit Report (DARS) will be generated to give you a sense of what areas may still need coursework to be ready for the next cohort start date. The Center for Extended Learning also offers some online resources you can utilize to get a sense of what would transfer in. Almost all our students in the SWIM program transfer in a large portion of their coursework from previous institutions they have attended. Free Transfer resources include the use of transferology.com and mntransfer.org
See the Tuition & Aid page to find out what tuition costs might look like for you each semester as well as how to go about applying for financial aid. There are some scholarships available! More information can be found on the Scholarship Information page.
Timeline for courses
Fall 2022
Spring 2023
Summer 2023

Interpersonal Relations
Human Behavior in the Social Environment I
Human Behavior in the Social Environment II

Generalist Practice I
Research Seminar

None
Fall 2023
Spring 2024
Summer

Generalist Practice II
Social Welfare Policy

Generalist Practice III
Family: Dynamics & Interventions
Internship Orientation

Internship
If you are within one semester of completing all the supporting foundation coursework, and your pre-admission coursework and liberal education goal areas, you can start the application for full admission to the program. This is all done online and the requirements can be found through the Program Admissions webpage. There is also a video available here that explains the admissions process in more detail.