The Communication Studies major prepares students to examine how communication practices influence the lives of individuals, relationships, communities and organizations in our ever-changing society.
Our program has recently been featured on Lakeland PBS.
Top executives stress the central importance of communication to their success. In other words, to become and remain, a competitive job seeker in an economy increasingly driven by knowledge and service, effective communication is a must.
As noted by the National Association of Colleges and Employees Job Outlook surveys, employers identified the ability to verbally communicate with others inside and outside the organization, solve problems, work in teams and the ability to create and/or edit written documents as the top skills they seek when hiring new college graduates.
Graduates who major in Communication Studies bring these critical skills to the workplace. They demonstrate strong verbal, nonverbal and written communication skills and have considerable expertise in speaking well in front of small and large audiences.
Student Opportunities
Our students have presented at the National Communication Association Annual Convention, and our Lambda Pi Eta-Alpha Zeta Chi Student Chapter received "Rookie of the Year" at the 2022 conference. Students are encouraged to join the two communication studies groups on-campus, which offer many leadership opportunities.
---
"What I got out of the Communication Department and major was increased confidence, lifelong friends and skills that I would never have gained in any other discipline by itself.
Communication Studies will help me in my future as a LADC by giving me the skills and understanding of nonverbals and different communication theories that will benefit clients on their road to sobriety. For example, I have had the opportunity to teach clients about uncertainty reduction theory and how it is relatable to addiction and sobriety.
The benefits that I have noticed of the Communication Major have been an increase in my understanding of communication and how everyone's communication type is different. There is also the benefit of knowing how communication works. Another benefit is a better understanding and respect for our community."
— Lisa McCollum '23
Communication Studies B.A.
---
Career Options for Communication Studies Majors
Opportunities range from securing full-time employment to making a difference in your workplace and communities, to continuing your education.
Our students have gone on to:
law school
graduate school
careers in event planning, higher education and more
Communication Studies graduates can work in a wide range of fields and occupations due to their diverse skill sets.
See more career outlook information from Career Services.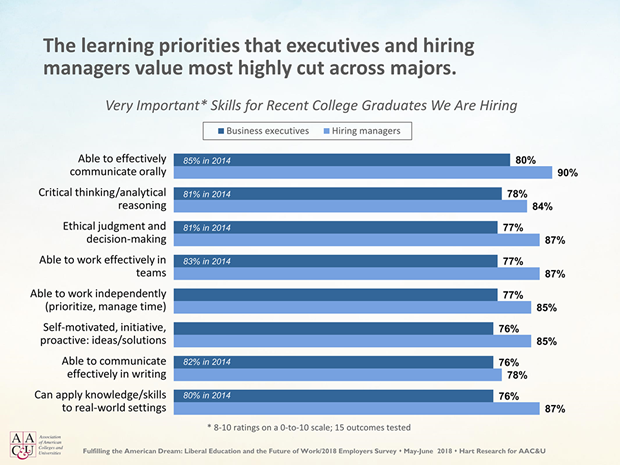 The ability to communicate effectively is one of the most valuable skills employers are looking for in college graduates!
Download the Communication Studies Requirements for MAJOR Sp 2022
For more information on the courses in this program, visit the course catalog.