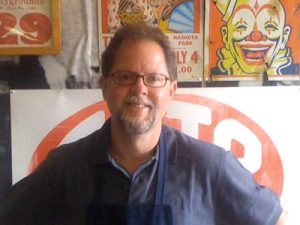 Jim Moran, photo from the Hamilton Wood Type & Printing Museum[/caption]
Director of the Hamilton Wood Type & Printing Museum Jim Moran facilitated a "Wooden Type Workshop" at Bemidji State University from Nov. 28 – Nov. 30 with Bemidji State's School of Technology, Art and Design (TAD).
Wood typing is the centuries-old method of creating letterforms and illustrations using carved wooden blocks and a printing press. The Hamilton Wood Type & Printing Museum of Two Rivers, WI is dedicated to the preservation, study, production and printing of wood type used in letterpress printing. Founded in 1880 by J.E. Hamilton, the museum hosts tours, workshops and classes to educate visitors and students alike in print typography, color and layout.
Moran worked as an apprentice, pressman, partner and owner of Moran's Quality Print Shop with his father and grandfather for 35 years before becoming the director at the Hamilton. He now facilitates letterpress workshops, archives the wood type collection and maintains the 40,000 square foot museum on a daily basis.
In 2016, Moran was featured in "Pressing On: The Letterpress Film," a Bayonet Media film that surrounds the printing press and explores how and why the letterpress has survived in a digital age.
The three-day wooden type workshop took place in Bridgeman Hall's printmaking shop on the Bemidji State campus where Moran worked with Bemidji State TAD classes and the campus community.
Contact
Links
---

Bemidji State University, located amid the lakes and forests of northern Minnesota, occupies a wooded campus along the shore of Lake Bemidji. Enrolling more than 5,100 students, Bemidji State offers more than 80 undergraduate majors and eight graduate degrees encompassing arts, sciences and select professional programs. BSU is a member of the Minnesota State system of colleges and universities and has a faculty and staff of more than 550. The university's Shared Fundamental Values include environmental stewardship, civic engagement and international and multicultural understanding. For more, visit bemidjistate.edu or find us at BemidjiState on most of your favorite social media networks.
2019-B-P-006