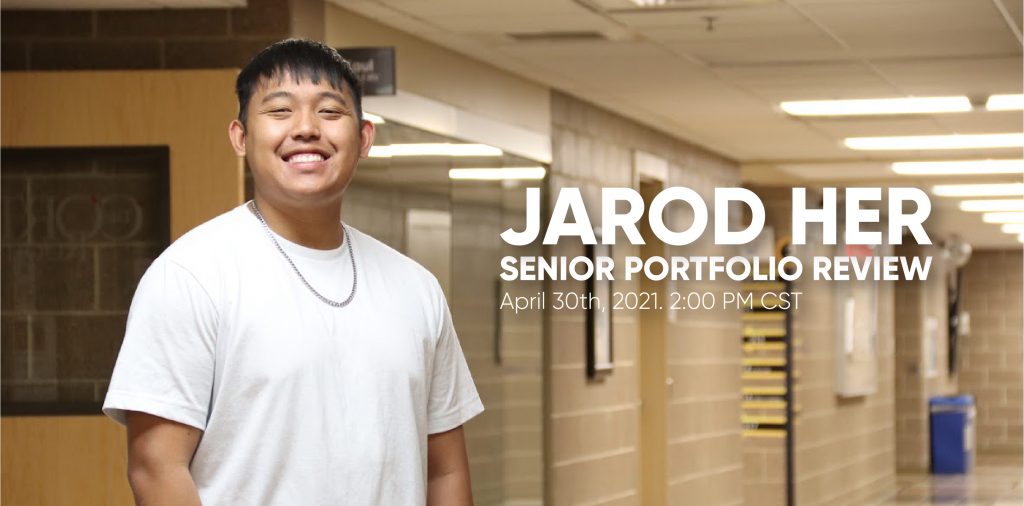 About Jarod
Hello, I am Jarod Her. In fancy terms I say I am an Experiential Designer. But at the end of the day I'm a person who loves to create and make. I am a Creator. From simple things to Illustration,Photography, 3D printing, Stickers/Vinyl, to the big 3 Es (exhibits, environments, and events). My creativity helped me find home at BSU in the TAD department. I am a part of an amazing creative community, called the Design Guild. I've been a member for the past four years, my final year being the President. It also showed me my love for being able to collaborate with others and see what can be reached.
Presentation Description
For my Senior Portfolio Review, I will be going over a glimpse of my favorite design projects from my time here at Bemidji State University. For the first project I will be sharing my experience under pressure. The next project that I will be sharing is about how muchI love to create, and share all the things I've learned from my curiosity for making. Then the final project I will be going over is a series of projects for the IAEE Expo! show showing my growth and development as a designer.
Student Portfolio Presentation
Zoom Meeting ID: 974 3949 0752
Zoom Passcode: Jher
Presentation Reviewers
Justin Dworak

Erick Gustafson

Mike Vallone

Jeff Janes
---
Reviewer Resources
---