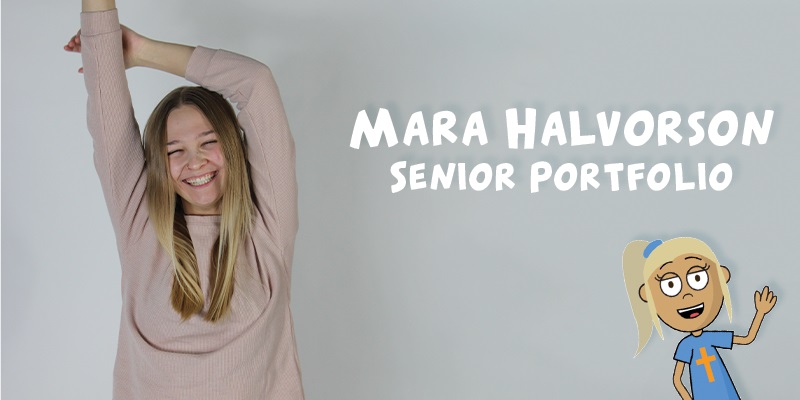 About Mara
Hi! My name is Mara Halvorson and I am a Graphic and Exhibit designer from Chaska, MN! I will be graduating with a Bachelor of Science degree in Design with emphases in both Graphic and Exhibit Design. I also will have completed minors in both Studio Arts and Mass Communication. I originally didn't know what I wanted to do in college and came to Bemidji State to pursue a degree in Physical Education. After taking a required digital design course my senior year of high school, I immediately fell in love. I switched my major to Graphic and Exhibit design before I even got here and haven't regretted it for a second. During the year and a half at home because of Covid-19, I found a passion for 2D illustration and 2D animation. Since then, it has become the focus of my most recent design work. I am immensely grateful to have found my passion and love for design and am excited about my career in this field.
Presentation Description
I will be presenting four projects that I am extremely proud of. The first is the graphic design and social media marketing work I have done for Bemidji State University's Housing & Residential Life. Within this project are posters, social media graphics, lobby slides and more! The second and third projects are two children's books created for a church's Zoom Sunday School during Covid-19. Filled with hand-drawn illustrations of 31 Bible stories, Bible verses, and conversation starters to help facilitate Zoom learning. The final project I will be presenting is Parable Patty, a 2D cartoon character I created at the beginning of the Covid-19 Pandemic to help create a more interactive and engaging Kid's Time for a church's online worship program. With over 20 animations totaling 1:30:54 in running time, including stickers, keychains, study guides, and an entire week of VBS (vacation bible school) curriculum centered around her, Parable Patty became a personality for this church's online worship.
Social and Portfolio Links
Link Tree: Mara Halvorson
---
Student Portfolio Presentation
Location: BN 305
First Session: 10:00-10:40 AM
Zoom Link: 939 4629 1265
Presentation Reviewers
Dana Esposito
Mike Vallone
Greg Brown
---
Reviewer Resources
---