Minnesota State Professional Development/Training Opportunities
Register for webinars and long and short courses on the Network for Educational Development Events Calendar
Facilitated conversation, opportunity for clarification and sharing tips related to the topic.
Releasing final grades and eServices grade entry
Grades do not automatically transfer from D2L to eServices; they must be manually entered, or imported from D2L (see instructions below).
Entering Grades
Login to MyBSU/MyNTC
Click the menu in the upper left and click Faculty Application
Under Employee Applications, click Faculty
Click the Faculty menu in the upper left and click Grade and LDA Entry
Follow the detailed instructions for entering grades at the following link: Grade and LDA Entry.
Additional information and instructions on importing grades from D2L can be found here: eServices Grade Entry–Import from D2L
If you have additional questions about grade entry, please contact the Records office.
Other End-of-Semester Resources:
Virtual student presentation options
As the semester wraps up, student presentations may be a part of your course activities. This clinic is intended to give you some options for managing and grading both live/synchronous and recorded/asynchronous student presentations.
Group Work Options
As a part of your course activities, you may want your students to work in groups. This clinic will help you set up groups in D2L and use those groups for activities such as discussions and assignments.
Grading Assignments
This week we focus on the mechanics of grading the assignments you have set up in D2L. These resources will help you when utilizing student feedback (including audio and video feedback), rubrics, and using Turnitin.
Managing Quizzes
Quizzes mean questions…and those questions sometimes come from students. These resources will help you manage your quizzes, and any issues that may arise, once exams are available to students in D2L.
Choosing the best tool for your assessment activities
At this point in the semester, you likely have your assessment activities planned. However, you may not know which tool to use for each type of assessment or what options are available through D2L and other Minnesota State technologies. You may even have student submissions ready for grading, but you are not sure how to provide feedback.
The resources below will provide initial guidance on choosing the best tool to reach your assessment goals.
Resources (contact beth.jensen@bemidjistate.edu)
Copy Content/Manage Dates
If you have course materials in a Development shell or in a recently-taught course shell, you can copy those course materials into a new semester shell. Then, you can edit and revise the new shell as needed. You can also use the Manage Dates tool to quickly change dates on course components such as Discussions, Quizzes and Assignments.
Resources (contact beth.jensen@bemidjistate.edu)
Designing Your Online Courses & Professional Development sites in D2L
As online courses are playing an even greater role in providing students with access to learning, it is important for faculty to apply current, research-based design standards when creating or revising their online courses. To this end, I have created three D2L sites with information to help you create effective online environments for your courses. I have also created a resources site in D2L called THE READING ROOM which includes articles on topics of interest to educators.
Resources (contact julie.adams@bemidjistate.edu)
The four D2L sites listed below are accessible through the Self Registration feature. You can find the link to Self Registration at the top of the D2L homepage. You can click on the link of the site(s) you would like to enroll in. After that, the registration process is relatively self-explanatory. NOTE: If you are already enrolled in a site, there will not be a live Self Registration link.
COURSE DESIGN FOR ONLINE COURSES – This site is designed to help faculty create an effective online course environment for their students. The organization of the site is similar to that of an actual course. The goal of this site is to help faculty design the D2L environment for their online course(s) in a way that responds effectively to current, research-based standards, but without requiring faculty to become experts in instructional design.
From ON-CAMPUS to ONLINE: the Basics for Faculty – The purpose of this site is to help faculty transition from their on-campus class to their online class. The site is organized to compare the elements of the on-campus class to the online class. This understanding can make it easier for faculty to move from teaching in a traditional classroom to teaching online. The site also includes information to help them create an effective online environment for their students.
DESIGN or REDESIGN Your Online Course – The purpose of this site is to help faculty at various stages of their online course development. The site includes eight modules that focus on the fundamental elements of course design. It makes use of the Online Learning Consortium's (OLC) OSCQR Rubric Standards.
THE READING ROOM – This is a professional development site in D2L that I will use to make articles available on topics of interest to educators. THE READING ROOM will continue to grow as new information becomes available. I encourage faculty to share articles that they have found of interest to them and their colleagues.
Mediaspace interactive Video Quizzes
In this clinic we will take a look at increasing student engagement by adding interactive quiz question in MediaSpace videos. According to Kaltura, embedding questions in video, online video quizzes can:
Encourage engagement
Promote active viewing
Measure participants' interest and understanding
Formally assess comprehension, including gradebook integration
Resources (contact brian.jambor@bemidjistate.edu)
MediaSpace Overview
In this clinic we will take a look at the Cloud Service MediaSpace…think YouTube but for MinnState! MediaSpace offers video recording, including computer screen content and Video hosting/streaming. We'll go over simple video creation, uploading and adding video to a course shell in D2L via "Insert Stuff" or "Existing Activities."
Resources (contact brian.jambor@bemidjistate.edu)
Resources & Training available at BSU and MinnState
This session will review how to find D2L resources, Educational Technology Tool resources, and Course Design and Teaching resources through eLearning Support and the system office.
BSU Websites and Resources
Faculty and Staff Orientation to D2L Brightspace (if you do not see this resource in your list of D2L courses, you can self-register)
BSU Student Orientation to D2L Brightspace (all students are enrolled when admitted to BSU, also available through self-registration)
Minnesota State Websites
Resources (contact julie.adams@bemidjistate.edu)
BSU resource sites available through Self-Registration (Video on how to self-register)
BSU Online Course Review & Certificate
from ON-CAMPUS to ONLINE: the Basics for Faculty
Course Design for Online Courses
Refresh your Online Courses
The Reading Room
Doc Cams and tablets
In this clinic we will take a look at adding document cameras and writing tablets in Zoom sessions. These types of additions are great for disciplines that rely heavily on handwritten information. (Math, Chemistry and more!) We'll go over simple techniques like adding your phone as a second camera in your Zoom call, adding an iPad to write on– to better quality, purchased doc cameras and writing tablets.
Resources (contact brian.jambor@bemidjistate.edu)
D2L Quizzes
The quiz tool in D2L offers a multitude of options. This clinic will help unravel what some of the quiz features are, and how to best utilize them. Also, there are several easy-to-implement strategies to increase quiz integrity without adding additional software products:
Limit the time allowed.
Shuffle your quiz questions. This way, each student gets the questions in a different order.
Use a question pool that pulls a different set of questions for each student (i.e. 20 out of 50 questions)
Add page breaks to make it harder for students to take quizzes together (i.e. 3-5 questions per page)
Since the quiz results page (the page that displays after a student submits their quiz) can be copied and printed, do not release questions and answers to students until the quiz period is over.
Include a variety of question types in your quiz. Don't rely exclusively on Multiple choice or True/False questions. Instead, include written response (essay) questions that require students to think critically and explain their answers.
In your syllabus (or as an introduction to each quiz/exam) include clear expectations for academic integrity and the consequences of cheating.
Resources (contact beth.jensen@bemidjistate.edu)
Part of the process of generating quizzes is creating or importing questions. Questions can be entered into the question library manually, or imported in bulk through publisher test banks. This clinic will focus on learning how to create or import questions into your D2L course question library.
D2L Discussions
The D2L Discussions tool provides a place to for students to interact with their classmates and instructor. Discussions can be open to the entire class, or restricted to individuals and small groups. Discussion participation can be assessed and scores sent to the D2L gradebook.
Resources (contact beth.jensen@bemidjistate.edu)
Continuity of instruction
Where can you find us
Go down the hallway that leads from Memorial and the Union toward the Library and follow it to the end of the hall. If entering the Library through the main entrance, go downstairs before entering the library and then turn left to the end of the hall.
Looking for more professional development activities/events?
Visit the Teaching and Learning Center calendar: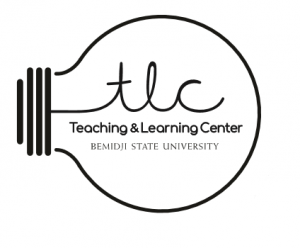 ---