Bemidji State University offers a Bachelor of Science degree in Business Administration in the metro area of Minneapolis-Saint Paul.  Our exclusive Mondays Only format means you are on-campus just one day per week, with the rest of the coursework completed online.
Applying is Easy 

Apply now for a fall start – August 2018. Click the button to start! If you have questions, call 1-800-723-3567, and speak with program manager Mirlande Erickson. Or email Mondays@bemidjistate.edu.

Testimonial from a 2017 MABA Graduate
Jessica says: "In mid May, I accepted a full-time contract position as an anti-money laundering specialist (financial crimes analyst) at US Bank. I am continuously surprised at the things that I use from school on a daily basis in my current position, which was mostly related to bank secrecy and the patriot act. However, it is so wonderful knowing that I was able to get such a wonderful education at our BSU Metro Program. Thank you a million times for answering my thousands of questions and being such a wonderful professor. It truly helped me achieve success and will continue to. Congrats, Jessica!
Truly Affordable and Convenient
Transferring your credits is simple, and when combined with additional foundation credits from a community college or university (if needed), and the 40 credits offered from Bemidji State, you'll have earned your B.S. degree. We challenge you to find a more affordable and convenient, accredited Business B.S. option in the metro area!
Already have a 2-year degree, or a bunch of credits? Compare the costs:
The approximate total cost of BSU tuition and fees is just $11,200 (40 credits)*. Compare that to completing your degree at a private college at more than $50,000! Also, BSU provides scholarship opportunities to business administration majors ranging from $300 to $3,000 per year.
(* Approximate costs of tuition and fees, if enrolling full-time. Subject to change. Additional credits – if needed – may be taken at ARCC or another community college.)
The Future is Bright
Future business markets are favoring professionals with Bachelor's degrees in Business Administration: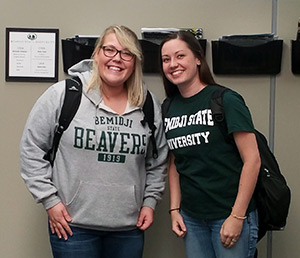 This is the once-a-week, convenient, and affordable option you've been looking for
You can earn your Bachelor's in Business Administration without relocating, or going through a lengthy credit transfer process. Enroll full- or part-time, and enjoy the benefits of both a small campus community, and realizing the dream of earning an accredited 4-year degree and being handed your Bachelor's diploma at Bemidji State's large-venue commencement.
Eligibility
This off-site program is open to all admitted students with 24 or more college-level credits. Admission to Bemidji State is required.
On-site contact
Mirlande Erickson
MABA Program Manager
Phone: (800) 723-3567 or (763) 433-1484
mcerickson@bemidjistate.edu.
BSU credits required for this degree
40 upper-division Business Administration credits. The remaining 80 degree credits can be earned from ARCC or other two-year colleges.
Classroom instruction
BSU courses are taught on-campus on Mondays at the ARCC Coon Rapids location.