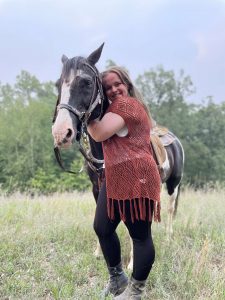 Hello! My name is Abigail Dorey, but I usually go by Abby. I am originally from Jordan, MN and have lived in Bemidji going on three years. I am a junior studying Elementary Education with endorsements in Pre-Primary and Social Studies education. I am also a part of the Honors Program here at BSU! Along with working in the admissions office, I also work as an R.A. in Oak Hall which is one of our freshmen living options. In my free time, I love to read, play flute in the pep band, listen to music, watch true crime, and long board with my friends and brother, who is also a student here at BSU! During my time off in the summer, I work as a camp counselor for the Girl Scouts, and it is such a fun way to spend my summers.
I decided to call BSU home because of the quality education program as well as the Northern Minnesota location. I grew up camping in the area with family, so it was like returning home. When I toured campus, it felt so right I never toured anywhere else. I love the lake access and outdoor feel that campus has. One of my favorite places to visit every year is Itasca State Park just 30 minutes away.
Being an R.A. I have lived in Oak Hall all three years of my time here. I highly recommend it to incoming freshmen but may be just a bit biased.