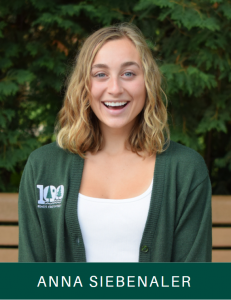 Hey everyone! My name is Anna Siebenaler (she/her) and although Bemidji is my home now, I am originally from Hastings, Minnesota. I'm majoring in Nursing and have been officially wanting to go to school to be a nurse since the 8th grade. Fun fact: I grew up duck hunting and when I was too young to do more than just tag along, I would play "nurse" with the dead ducks and try and fix them. Now as I'm fulfilling my dreams of being a nurse at Bemidji State, my next step is to work in rural healthcare with a final goal of being a Certified Registered Nurse Anesthetist! 
I only ever toured one school and that's all it took to find myself here! I chose Bemidji State not only for the accredited educational program, but for the surrounding area. Any direction I go, I will find areas that provide things I love doing! I love anything outside and if you name it, I love doing it or at least have plans to try it; all seasons too!  
I look forward to meeting all of you and sharing my passion for Bemidji State University and the surrounding area!