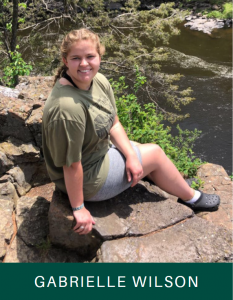 Hi friends, my name is Gabrielle Wilson, but some people call me Gabs. My pronouns are she/her/hers! I am from Champlin, Minnesota and I have lived there my whole life. I have been living in Bemidji for the past four years. I am currently a senior here at Bemidji State majoring in elementary education with an emphasis in Comm Arts and Lit. I am an RA in Birch. 
I knew that I wanted to further my education but I didn't really know where. One of the reasons I decided to tour Bemidji State was that my Grandpa and Aunt went here as well. I had always thought that it would be cool to continue the tradition, and be a third generation alumni. Once I toured BSU I knew it was the right place for me. I loved the whole atmosphere of the campus and it had so many different majors for me to choose from, since at that point I was undecided. I also loved that it was on the lake! 
I have lived in the residential housing all four years that I have been going to college at BSU. My freshman year I lived on the 8th floor of Tamarack. I love living in residential housing. It is a great way to meet people and do fun floor activities that the RAs plan. In my sophomore year I lived in Linden and currently I live in Birch. In my free time I like to hang out with friends and watch movies, and also go hammocking when it gets a little warmer! I love hockey and played all growing up. I also love to read and write when I get the chance. 
I can't wait to see you at Bemidji State University!