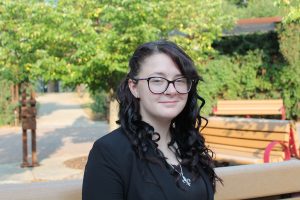 Hello everyone, my name is Kassidy Parks, but everyone calls me Kass. My pronouns are She/Her/Hers! I originally come from Jordan Minnesota, which is about 4 hours south of here. I am a junior here at Bemidji State University. So, I have been calling Bemidji Home for three years now. I am a Psychology major with a minor in substance and behavior addictions going for my Licensed Alcohol and Drug Counselor license.  
I chose Bemidji State University for several distinct reasons. I loved the idea of being so close to the lake. I fell in love with the campus, and I also fell in love with the idea of my higher education taking place in the northern part of the state. I'm not much of an outdoors person, but I always envied those who were.  
When I was a freshman, I lived on the 2nd floor of Oak Hall and I loved it so much, I never moved off campus. I think living on campus is very convenient and makes campus life so much fun! I hope to see you guys around campus!