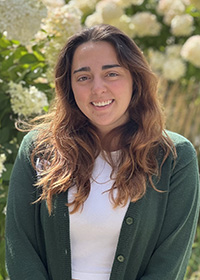 Hello there! My name Katelyn Jossart and my pronouns are she/her/hers. Here's a little information about me: I am from St. Michael, Minn. — about three hours south of Bemidji. I am a senior here at Bemidji State University finishing in the Fall of 2023. I am majoring in psychology, with a minor in sociology and a writing emphasis. 
There are many things that I have grown to love about BSU. I have had so many opportunities over the last three years to be involved, meet so many new students, and work closely with professors in the psychology department. Bemidji State University is a great place to get started on general liberal education if you are undecided like I was as a freshman. I also love how many outdoor activities there are to do all year long in Bemidji. Even if you are not as passionate about the outdoors as others here at BSU may be, downtown Bemidji has so many fun things to do, and our campus has so many clubs and organizations to get involved in. 
Bemidji State is a wonderful place to meet so many unique individuals! I have met people who enjoy reading and writing like I do, who are huge Marvel Comic fans like me, and who love to go to the park for a picnic or grab a late-night snack! I have met people that bring me out of my comfort zone when I need a little adventure as well. I am confident that you will find something to love about BSU! I cannot wait to see you on the tour!