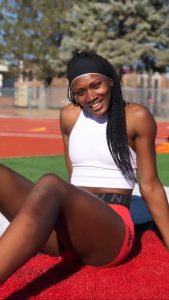 Hi everyone! My name is Maryse Mbenoun but I go by May and my preferred pronouns are she/her/hers. I am a Senior double majoring in political science pre-law with a minor in international relations and I'm part of the cross country and track and field team here at BSU. I was born in Cameroon but was raised in Paris, France! This is my second semester at Bemidji, I was in a community College in Kansas before and was contacted by the head track and field coach over here! My older sister is currently studying in Germany (Berlin) and so studying abroad was something that I have always been interested in.  
As an international student, I have not gotten the chance to visit Bemidji prior to my arrival on campus and since this is my second semester here, it really feels like I am a freshman sometimes! However, right before classes started, I got my first tour and absolutely fell in love with the campus. Even though Bemidji is a small town, I like how it gives all the convenience of a big city! In my free time, I like to hangout with my friends (we like to go paddleboarding, kayaking and snowshoeing during winter ) but also cooking, working out and reading. 
I am beyond content and grateful  to be part of the Beaver community and to be in such a welcoming place like Bemidji! I hope to see you on campus for a tour!