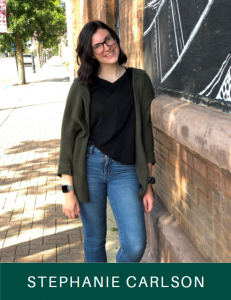 Hey ya'll my name is Stephanie Carlson, my pronouns are she/her/hers! I am originally from Mankato, Minnesota but for the last three years Bemidji has been my home and the place I love to be the most. Currently I am in my junior year at Bemidji State majoring in Social Studies Education and minoring in History. 
The reason I toured Bemidji State the first time was because of its location right on Lake Bemidji, and BSU was the only campus I visited that I didn't want to leave after the tour was done (as cliché as that sounds). I frequent Beaver hockey games and am super involved by being a captain of the Hockey Cheer Team. I also love going to campus events and spending as much time on campus with my friends as I can. 
While doing online classes this past year I have spent a lot of time with my newly adopted cat, Frankie, listening to true crime podcasts and getting really good at ordering takeout. My current favorite shows are The Walking Dead and Criminal Minds, and I am always looking for recommendations of what to watch next. And if you want to talk figure skating or history I am definitely your girl. 
I love going to school and working at Bemidji State and I cannot wait to show you everything I enjoy about this place!