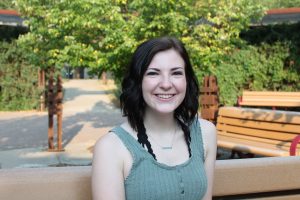 Hey ya'll! My name is Stephanie, my pronouns are she/her/hers. I am originally from Mankato, Minnesota but for the last three years I have been living full-time in Bemidji and loving it. I am currently in my fourth and final year at Bemidji State majoring in Social Studies with minors in both History and Gender and Women's Studies. 
The reason I toured Bemidji State the first time was because of its location right on Lake Bemidji, and BSU was the only campus out of the seven that I visited I didn't want to leave after the tour was done (which is true even though it sounds super cliché). My favorite campus events to attend are Beaver Hockey games, first of all, but grocery bag bingo and murder mystery night are up near the top of my list too. 
I am pretty obsessed with true crime, and I never take a shower without having a murder podcast playing. I bug my adorable cat Frankie whenever I am at home, and I have become a professional nap taker since starting college. 
I love being at Bemidji State and working in the Admissions Office, and I am super pumped to show you all the things I love about this place!