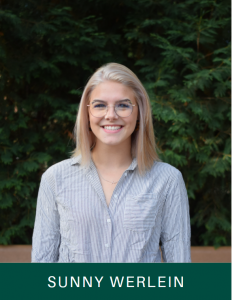 Hello! My name is Savanna Werlein, however I usually just go by Sunny and my preferred pronouns are she/her/hers.  I am a Junior at BSU majoring in Biochemistry and minoring in Physics. I am from Bemidji and actually grew up just several blocks away from campus so I could see the archway from my house. My dad attended BSU and that was one of the many reasons I ended up going to school here.  
Being from the area I never ended up taking a formal tour of the Bemidji State, however, funnily enough my first ever tour of the campus  was when I was shadowing a tour. One of the first things that I loved about campus was that I was not just a student, but rather Sunny, in that over time I was able to become personally known  by the faculty and staff here  and have been able to develop personal  relationships with them. I have also enjoyed how close I have gotten with the other students on campus partially due to how petite the campus and class size is and how it has given me the opportunity to be friends beyond a classroom setting. (The sentence sounds so freaking cheesy but I don't know how to rephrase it, like it feels unnaturally but truly because classes are so small and I see these people like all the time I really have gotten close with them like beyond just asking for homework help.) 
In my free time I enjoy working out. Cardio in my opinion is the worst, however in the summer Bemidji is truly ~gorgeous~ to bike around so I can make an exception. I also l o v e watching sports (roll beavs). In the winter I love going skating and playing hockey. And all year round I like being outside, watching movies and of course going to Applebee's.  
Working and going to school at BSU has been truly wonderful and I would be more than happy to explain in more detail when you come to tour!