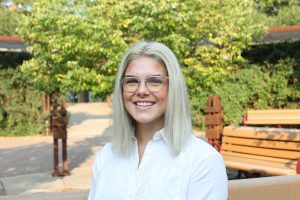 Hello! My name is Savanna Werlein, however I usually just go by Sunny and my preferred pronouns are she/her/hers.  I am a Senior at BSU majoring in Biochemistry and minoring in Physics. I am from Bemidji and actually grew up within sight of the BSU arch way. My dad also attended BSU which was one of the many reasons I ended up going to school here.
Being from the area I never ended up taking a formal tour of the Bemidji State. My first ever tour of the campus was when I was shadowing a tour for training. One of the first things that I love about BSU is that I'm not just seen as a student, I am seen as me.  Since my start at BSU, I have been able to become personally known by the faculty and staff here and have been able to develop personal relationships with them. I have also enjoyed how close I have gotten with the other students on campus partially due to how petite the campus and class sizes are. This has opened up the door for closer relationships with other students beyond just a classroom setting.
In my free time I enjoy working out and being active. I'll be the first to say it: cardio is the worst, however in the summer Bemidji is ~gorgeous~ to rollerblade around so exceptions can be made. I also l o v e watching sports and cheering on BSU athletics. In the winter I enjoy ice skating and staying warm 🙂 And all year round I like being outside, watching movies/literally any streaming service and of course going to Applebee's.
Working and going to school at BSU has been truly wonderful and I would be more than happy to explain in more detail when you come to tour!