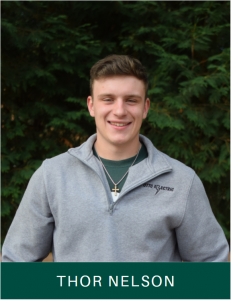 Hello, my name is Thorild Nelson and I am a Junior this year at Bemidji State University majoring in Mass Communications and Minoring in Environmental Studies. I am originally from Nicollet Minnesota, a small town that is roughly four and a half hours south of Bemidji.  
One of the main reasons that I came to Bemidji was the outdoor opportunities that were available, because my main passion is hunting and fishing. Up here there is no shortage of water or woods for a person to immerse themselves in, and I can see why so many people stay in the area after college to call this place home. In my spare time I also bartend at Corner Bar and am now on my second year of being the Ducks Unlimited Chapter President at BSU. 
This is now my third year of being a University Ambassador and I have had such a great time all three years! This job has not only been fun for me but the friendships and connections that I have made are worth their weight in gold!