Services for American Indian Students
Wiidookawindwaa Anishinaabe-gikinoo'amaaganag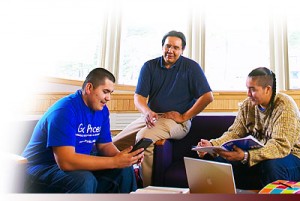 The AIRC is a place where Indian students can gather for learning, support and cultural interaction. We offer help with class scheduling, academic and personal counseling together with the Bemidji State University campus community.
The Center's goal is to assist in any way we can to help you stay in school and ultimately graduate.
The following services are available to American Indian Services:
Counseling
Walk-in Counseling
We provide walk-in counseling services, assisting students with whatever problems, issues, or concerns you may have as you attend BSU.
Intrusive Counseling
We also offer intrusive counseling services, deliberately meeting with students that are having problems, issues, or other concerns.
Academic Advising
Our staff is well versed on graduation requirements, scheduling, and long-term career outlooks. We offer help to new entering students, as well as continuing students in class scheduling and career planning.
Financial Aid Assistance
We work closely with the BSU Financial Aid Office as well as tribal scholarship programs in securing as much financial aid as students are qualified for. The AIRC has a list of scholarships that you may be eligible for.
American Indian Student Bridge Loan Program
In conjunction with the Business Office, we administer a short-term loan program for American Indian students within the following parameters:
Maximum amount of loans are $300.
Loans must be paid back by the end of the semester.
These loans are a bridge between the beginning of the semester until a student's financial aid arrives on campus. Loan applications can be submitted up to three weeks prior to the start of the semester. Financial Aid must confirm and verify your award package is enough to cover your expenses for the semester and to pay back the loan prior to approval. Once approved there is a minimum 24 hour waiting period for your check to process. This time period could be longer depending on what time of day application is submitted.
AIRC Computer Lab
The AIRC provides four computers with internet connections available for student use at no charge.