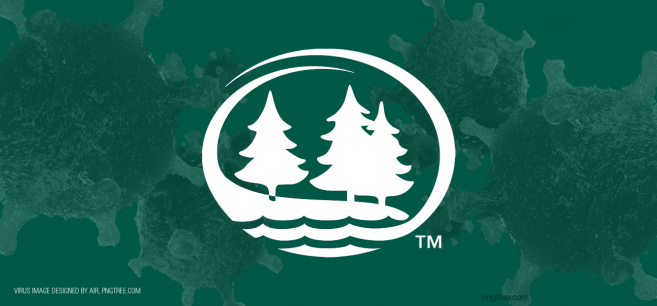 The following message was sent by President Hensrud to all students at BSU and NTC on March 11.
Good evening, BSU and NTC students;
I wanted to provide you with an update regarding the ongoing and quickly developing situation related to the COVID-19 coronavirus.
The safety of our students remains our greatest priority, and any actions that we may take in response to this outbreak are with the safety of our communities fully in mind.
There are no confirmed cases of COVID-19 on our campuses, in Bemidji or in Beltrami County, but as of this afternoon the Minnesota Department of Health has confirmed five cases in Minnesota.
On our campuses, a task force of senior leadership has been convened and is meeting daily to discuss the latest COVID-19 developments. In addition, the Emergency Operations Team is meeting weekly, and the Minnesota State system is convening its COVID-19 Contact Group weekly as well.
Both Bemidji State and NTC will align our recommendations with guidance from the Centers for Disease Control and Prevention, the Minnesota Department of Health and the Minnesota State system.
Earlier today, Minnesota State Chancellor Devinder Malhotra shared a memo with system presidents, which included the following information from the Minnesota Department of Health:
With five coronavirus disease (COVID-19) cases reported in Minnesota, the Minnesota Department of Health (MDH) knows there is increasing concern around what the next steps are for institutes of higher education, given that other colleges and universities across the country are taking various measures including tele-learning and closures.

At this time, MDH is not recommending those measures. Minnesota currently does not have evidence of ongoing community transmission, nor are there any cases currently in a college or university setting. If an institute of higher education has a case in a student, staff, or faculty member, MDH will work closely with the impacted college or university to provide guidance. Moreover, depending on how transmission and spread evolves in the state, we will work with colleges and universities throughout the state on our recommendations.
Based on current recommendations, we have no plans to close campus or to either delay the start of classes after spring break or move classes online.
We ask if you are personally isolating or quarantined as a result of recent travel or contact with a person known to be infected with COVID-19, that you contact your local department of health, which may be affiliated with your city, county, or state, depending on where you live. Here in Bemidji, there is a local office of the Minnesota Department of Health on 5th Street NW. Their phone number is (218) 308-2100.
For students who recently traveled over spring break to a CDC Level 3 Travel Advisory country (China, Iran, South Korea and Italy), Bemidji State and NTC will be adhering to recommendations that you self-quarantine for 14 days when you return and that you receive clearance from college and university officials before returning to campus.
For anyone who traveled on a cruise ship within the past 14 days, we ask that you follow the recommendations from the CDC regarding COVID-19 and cruise ship travel.
For students with chronic medical conditions (e.g., heart disease, diabetes, lung disease) who would like to inquire about alternative learning/instruction options on a short- or long-term basis, please work with the Accessibility Services at accessibility@bemidjistate.edu or by calling (218) 755-3883 for assistance with possible accommodations.
Please contact the office of the associate vice president for student life and success at avpsls@bemidjistate.edu or by calling (218) 755-2380 should you need to be excused from classes.
As with the flu, there are simple strategies you should all be practicing to help avoid the spread of viral diseases:
wash your hands often with soap and water,
cover your cough with a tissue and throw it away,
if you are sick, stay home, and
consult your doctor by phone if you are experiencing flu-like symptoms.
We encourage you to share this information with your family or other loved ones so that they are aware of the ways your college and university will support you. In addition, members of your family may sign up for email updates using a form on our Coronavirus website; feel free to direct them to this website if they are interested in receiving updated information on the Coronavirus.
Please watch your campus email and our coronavirus information pages on the BSU and NTC websites for additional information.