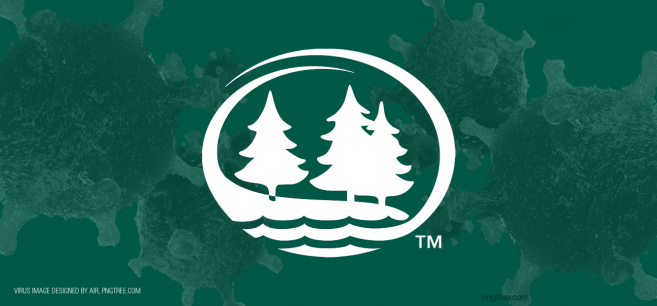 The following message was sent to all students at BSU and NTC on Saturday, March 14:
Dear BSU & NTC students  —
I want to thank you for your ongoing attention to the constantly changing situation surrounding the response to COVID-19 that is impacting the world, nation and state.
Latest News
Governor Walz announced yesterday his directives for community mitigation to slow the spread of the virus.
I also urge you to review the document provided by the Minnesota Department of Health. The MDH and CDC are the best resources for us to follow. Please continue to read materials on these websites, understand the guidelines, and use these sources to help dispel any rumors or misinformation.
Recap of Friday Activities
You should know that we are working closely with our community. On Friday, March 13, we participated in a meeting with Beltrami County Public Health and Beltrami County Emergency Management as they monitor the potential impacts for Beltrami County.
The Student Center for Health & Counseling is working closely with Sanford Health as well. Sanford Health of Bemidji held a press conference on Friday that provided helpful information, which was covered by the Bemidji Pioneer.
My Cabinet met at the beginning and end of the day, and I also met with our Emergency Operations Team (EOT) as it continues with weekly meetings to help manage our response to this pandemic. In addition, a smaller group of EOT leadership is meeting daily.
Also on Friday, I connected with all BSU and NTC Academic Affairs administrators and spoke with our Student Life and Enrollment Management employees. I am incredibly impressed with the response of our employees — faculty, staff, and administrators alike — to this constantly developing situation. This is an unprecedented situation that impacts each one of us. All of us have remained calm, professional and, most of all, flexible during this incredibly trying time.
BSU, NTC & System Priorities
We continue to follow the lead of the Minnesota Department of Health and our leadership at Minnesota State. Yesterday in our phone call with system leadership, the Chancellor laid out two key priorities and I want to emphasize those with you:
Our Key Priorities:
To safeguard the health, safety, and welfare of our faculty, staff, and students
To enable students to complete the spring semester and progress toward their educational goals
Additional details related to the March 12, 2020, decision to suspend classes were also provided to help guide our faculty and staff who are preparing courses for alternative delivery over the next week. This information includes the following, some of which is also quite relevant to you as students:
Points of Clarification on Course Suspension:
All course instruction (including online instruction) is suspended during the week of March 16-20 for the 32 colleges and universities on spring break this week (March 9-13). BSU and NTC fall into this category.
The purpose of these suspensions is to provide faculty with the time needed to convert current face-to-face courses to alternative course delivery modes.
Our goal is to complete the full semester through to the scheduled end date.
We are not seeking to extend the length of the term.
Expectations for Alternative Course Delivery
This is the information communicated to our faculty by the Minnesota State system regarding its expectations for how we determine alternative delivery methods for our courses at both BSU and NTC:
In determining the appropriate alternative course delivery approach for each course, academic leaders work with their faculty members to explore the options below, listed in priority order:
Migrate the course to an online format within D2LBrightspace.
If option 1 is unviable, migrate the course to an alternative synchronous format such as Zoom or other conferencing technologies.
If option 2 is unviable, migrate the course to an asynchronous format, using email correspondence or other forms of non-synchronous technology or communication.
If the full course cannot be delivered in one of the above manners and must retain a face-to-face component, the course must be adapted to reduce contact time, ensure social distancing, and reduce personal interactions and/or contact time.

Strategies for this adaptation include, but are not limited to:

Moving non-applied components of the course to one of the formats enumerated above
Reducing hours in the lab/classroom
Implementing special safety and separation precautions (i.e., minimum of 6 feet buffer zones, etc.)
Splitting of sections into smaller groups
Expansion of lab availability, staggering students across time
The exact nature of this alternate delivery for your courses will be determined by your faculty members, in close collaboration with BSU and NTC administrators, over the course of the next week. If you have ideas or suggestions for ways in which delivery of your courses could be altered while still allowing you to receive the instruction and education you expect, please share those with your faculty member or the dean of your college.
Assessment and Final Examinations
Course assessments and final examinations will adapt to the new method of instruction.
Face-to-face assessments and final examinations should only be used for those limited courses that cannot be fully delivered in a non-classroom format.
Clarification on non-credit instruction, internships, practica and clinicals is also provided:
 Internships, Practica, and Clinicals
Students can continue to attend internships, practica, and clinical experiences if and when the learning occurs off-campus (assuming the hosting organizations remain open), and when our faculty are not directly involved in the instruction.  (For example, student teaching placements continue even when a college or university is on spring break and students are supervised on a day-to-day basis by a cooperating teacher).
Faculty who have students in those types of placements communicate directly with those affected students to discuss continuing that educational experience, which again rests on whether the hosting organization is open.
Ongoing need to review all External Groups/Large Gatherings/Visitors:
All gatherings and events totaling more than 100 from March 12, 2020 to at least May 1, 2020 are canceled.  This includes events and gatherings on our campuses that are non-college or university sponsored.
We must consider the health and safety of vulnerable populations for any events we host or sponsor.
Out-of-State Travel Suspension
There is no specific end date to the suspension.
Practice Social Distancing
Effective immediately, BSU and NTC will begin to implement social distancing practices. The MDH provides the following guidance:
Implement social distancing measures:
Increase physical space between workers at the worksite (6 feet spacing)
Stagger work schedules.
Decrease social contacts in the workplace (e.g., limit in-person meetings, meeting for lunch in a break room, etc.)
Limit large work-related gatherings (e.g., staff meetings, after-work functions).
Require workers who are ill to stay home.
Provide accommodation (e.g., telework or separate office) for individuals with underlying medical conditions.
I want to assure you that we are continually monitoring this constantly changing situation. While today we are following a known course of action, that course may need to change quickly.
Wellbeing
We recognize that each individual reacts differently to stressful situations. The outbreak of coronavirus disease 2019 (COVID-19) may be stressful for you and your family. The CDC provides resources that you should review. The CDC notes that fear and anxiety about a disease can be overwhelming and cause strong emotions. Everyone reacts differently to stressful situations.  The emotional impact of an emergency on a person can depend on the person's characteristics and experiences, the social and economic circumstances of the person and their community, and the availability of local resources. People can become more distressed if they see repeated images or hear repeated reports about the outbreak in the media.
Please review CDC information on Managing Anxiety and Stress.
Each one of us can help slow the spread of the coronavirus by the actions we take every day. Please continue to follow simple strategies to help avoid the spread of COVID-19:
wash your hands often with soap and water, for at least 20 seconds,
cover your cough with a tissue and throw it away,
if you are sick, stay home, and
consult your doctor by phone if you are experiencing flu-like symptoms. In Bemidji, we are asked to call the Sanford Clinic before making a trip there. The number to call is (218) 333-5000. They have nurses available to triage your situation.
Additionally, if you are concerned about possible exposure to COVID-19, but you are not experiencing any symptoms, the Minnesota Department of Health COVID-19 hotline is available to answer any questions you may have: call (651) 201-3920 or 1-800-657-3903 from 7 a.m. to 7 p.m.
Please continue to send your questions to Andy Bartlett, Executive Director of Communications & Marketing, at andy.bartlett@bemidjistate.edu, and visit our Coronavirus websites at bemidjistate.edu/coronavirus/ or ntcmn.edu/coronavirus for the updated information.
Your health and well-being is important. Please stay informed and stay well.
I speak for my entire cabinet when I tell you that we will do our best to keep you informed of new developments related to this response in the fastest, clearest way possible.
Sincerely,