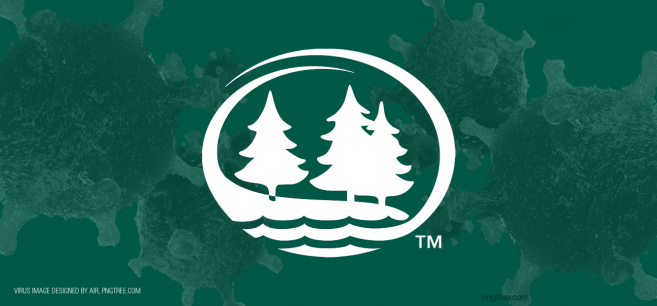 The following message was sent to students at 2:05 p.m. on April 9, 2020.
Two New Options for Supporting Your Academic Success During COVID-19
PASS/NO CREDIT GRADING OPTION
What Is It? Most classes at BSU are typically graded with a letter grade of A, B, C, D, or F.
For the Spring 2020 term, we are giving students the option of choosing to be graded instead using the grades of either P for "Pass" or NC for "No Credit." BSU already has a policy to allow students to select P/NC in limited situations. The modification implemented for use in spring 2020 allows students to select this option for any of their spring semester courses without limit. Students have until September 18, 2020, to choose to use the P/NC grade instead of letter grade as their grade of record for spring 2020 courses. Once the request to change from letter to P/NC is made and processed the grade is final and the grading method will not be changed again.
NOTE: Some courses, such as those that are required by an external licensing body, will not have the P/NC option available. The faculty will notify students enrolled in these courses that P/NC grading is not an option.
How Does It Work? Faculty in A-F graded courses will continue to grade you on an A-F scale, but if you choose the P/NC option, your A-F grade will be converted to a corresponding "Pass" or "No Credit" grade after you decide to make this change. When you receive a P grade, this means that you have achieved enough of the essential learning outcomes of the course to have passed the course. You can make these decisions on a course-by-course basis.
Spring 2020 courses with a mark of "Pass" will satisfy program requirements except in cases where an external governing body does not allow it. Note: The Pass/No Credit policy requires that students complete all course requirements and to take all examinations. Failure to do so may result in receiving a failing grade. (Students may withdraw from a course to receive a W instead of F if the student anticipates being unable to complete coursework. See below for more information about the options for withdrawing.)
P/NC grades received during spring 2020 will be allowed to count as a repeated course and be able to replace a previously graded course removing the impact of the previous grade from the GPA calculation.
Requesting Conversion of Letter Grade to P/NC
The request to change a letter grade to P/NC is made by the student through the student's academic advisor. Students must work with their advisors to make this grade change. The purpose for working with the advisor is so that students have all the relevant information needed to make an informed decision.
Transcripts and Degrees
Notations on Transcripts Spring semester grades of P or NC will include a note indicating that these grades were given in accordance with a temporarily modified policy in response to CoVid-19.
Transcript Requests Students who request an official transcript that includes spring 2020 grades will need to make their grade type selections prior to the transcript being finalized and sent (which is typically four to six weeks after the semester ends). This means that some students will need to make their grade type selections prior to the September 18, 2020 deadline.
Graduating Students
For graduating students, decisions Students who complete their degree program in spring 2020 will need to make their grade type selections prior to their degree being awarded and noted on the transcript.
Potential Benefits of the Expanded P/NC Policy
With all of the time and effort you have invested in your courses already, this grading option will provide a low-risk way for you to finish the course and continue to make progress toward your ultimate goal of graduation or transfer.
P and NC grades are not included in the calculation of your grade point average (GPA). Thus, if challenging personal circumstances or the unexpected learning environment of remote learning make it harder this semester to get as high a grade as you would otherwise, the P/NC option will protect your cumulative GPA.
Because P and NC grades don't impact GPA, the P/NC grade method will offer students protection against being suspended as part of the Satisfactory Academic Progress (SAP) process. NC grades typically reduce a student's completion rate (the number of credits you earn vs. attempted), but the federal government is suspending SAP requirements for the spring semester. Students must complete at least two thirds of attempted credits to remain in good standing, and so using the NC option may affect the completion rate determination in a subsequent semester. Financial Aid is completing SAP for spring term.
Potential Drawbacks
Although a P/NC grade can't hurt your GPA, it also can't help your GPA. If students determine their GPA will increase by sticking with the A-F grading method, they should do so.
Under normal circumstances, many transfer institutions and graduate schools do not accept courses that were graded on a P/NC scale. Minnesota State will be accepting Spring 2020 grades of P for transfer. It is the student's responsibility to check transfer implications for institutions outside of Minnesota State.
Some students may not be eligible for P/NC grading. These may include veterans on GI benefits, some international students, and students in some programs with external licensure. Both the federal government and licensing bodies may change these rules during semesters impacted by COVID-19.
The good thing is – You don't have to decide right now. You will have until September 18,2020, to decide and submit if you wish to opt for P/NC grading. By this time, you will know how well you did in the course, and by then we will know more about what the implications are for transfer, graduate schools, veterans, Nursing students, etc. 
Implications for Honors, Dean's List, and President's List
BSU is making no modification to the policies governing honors or dean's list or president's list distinction. Use of the P/NC option may affect eligibility to graduate with honors because students must earn a minimum number of letter-graded (A-F) credits to graduate with honors. Similarly, dean's list and president's honor roll distinction are based on a minimum of 12 letter graded credits in a semester. Credits graded with a Pass do not count toward graduation honors, dean's list, or president's honor roll distinctions.
EXTENSION OF DEADLINE TO WITHDRAW
What Is It? The Minnesota State system typically sets a deadline for students to withdraw that is set at the point when 80 percent of the term has been completed. The system had extended that point to 90 percent of the term, which means BSU students in full-term courses will have until April 27th to decide whether to withdraw
 How Does It Work? Students in full-term courses can withdraw (and get a grade of W) at any point between now and April 27th. If you are in a shorter-term course, please check eServices to determine what the new withdraw deadline is.
Potential Benefits
Compared with the earlier withdrawal deadline, this will give students time to determine whether their new learning environment and personal circumstances provide an environment in which they can academically succeed in the current term.
Potential Drawbacks
A Withdrawal (W) grade will have the same impact on GPA, completion rate, and Satisfactory Academic Progress as does a No Credit (NC) grade. But the Withdrawal deadline is earlier than the deadline to request the Pass/No Credit grading option, and an NC may be viewed more favorably on a student's transcript than a W. Because the NC option requires that a student complete all course requirements and to take all examinations, a student may choose to withdraw if the student knows prior to April 27th that the student is unable to complete coursework.
"COVID-19" NOTATION ON YOUR TRANSCRIPT
What Is It? The Minnesota State system (like many other colleges and universities throughout the country) will be developing a mechanism for making it clear on your transcript which grades were impacted by COVID-19.
How Does It Work? We are still figuring out the details of how this will work at BSU. We will be working to make sure it is in step with and recognizable by other higher education institutions in Minnesota and across the country.
Potential Benefits
It is expected that transfer institutions and others will make allowances for grades impacted by the unprecedented disruptions of COVID-19 on students and institutions.
Potential Drawbacks
There are no known drawbacks to this approach.