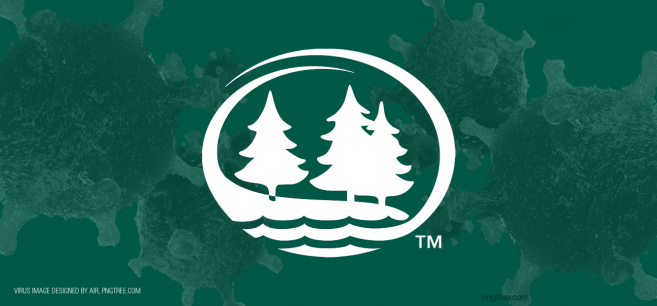 Below are the guidelines put in place for the Gordy Skaar Golf Tournament as of August 21, 2020.  Please refer to the following websites for additional information:
As a reminder to protect yourself:
Wash your hands
Avoid touching your face
Practice social distancing
Cover your cough and sneeze
If you are sick or feel sick, please stay home
Registration/Arriving at event:
All registration will be done online.  All players must pre-register & pay via BSU Foundation website.
We will have all groups assigned a tee-time through the committee after they register and pay their registration fee.
Please do not arrive more than 40 minutes before your scheduled tee time.
The golf shop is open and limited to 10 people inside at a time.  Please wait at the door if needed.
Please handle your own golf clubs.
There will be no pre-round speech.  All correspondences will be done via email, social media, and fliers on carts.
Our current golf cart policy will allow one rider per cart. Each cart may have two sets of clubs, but only one designated driver and the other golfer must walk.  Exception: two riders from the same household may share a cart.  We are anticipating policy changes per the governor's executive order and will remain in compliance set forth.  We will also promote and encourage golfers to walk.
Masks required indoors in the golf shop and clubhouse at all times unless drinking or eating. 
Clubhouse/Restrooms/Locker Room:
Restrooms are available both inside the clubhouse and on the course.  Please follow MDH guidelines and wash your hands before and after use.
Please follow all instructions posted regarding maximum capacity and guidelines for indoor and outdoor dining.  As this changes, we will follow the MDH guidelines and adjust accordingly.
Locker room access is temporarily closed.
Outside food and beverages are prohibited.  Food and beverages will be available for sale from BTCC in a safe manner following MDH guidelines.
Driving Range/Practice Greens:
Golfers are expected to keep at least 6 feet of distance between each other on the driving range.
Please keep your practice time to no more than 15 minutes on the driving range.
Bags of range balls will be provided in bins outside the pro shop.
Only one golfer per hole allowed on the putting green.
On Course:
Always practice social distancing.
Walking is highly encouraged.
Water coolers have been removed; please plan appropriately. Additional food and beverage sites will be on course to assist with hydration and player safety throughout the day.
Flagsticks are always to be left in the hole.
All ball washers and seed caddies have been removed on course.
All rakes will be removed from the bunkers. Please smooth the surface of the sand with your foot or club after your shot.
If the ball comes to rest in a disturbed area of the bunker, treat the disturbed area of the bunker, as ground under repair. This allows for free relief, but such relief must be taken from within the bunker.
Dispose of garbage in proper receptacles.
On course restrooms will remain open and sanitized throughout the day.
After Round:
One player per team should be responsible for scoring and only that player should return their score card to the golf shop.
There will be no formal awards ceremony.  Results will be posted, and any prizes will be mailed to the team captain.
Golf carts and push carts will be properly sanitized with close attention to high touch areas such as steering wheels, cup holders, seat, handles, etc.
Online silent auction will be available, and all successful winners will be notified how pick up your items.
As an alternative option to the on course and post round meals, we are working with the BTCC to provide food that meets MDH guidelines for all participants.  All participants will receive a meal as part of the registration fee, and it will be available for takeout.
Bemidji State athletics and the foundation office, in conjunction with the Gordy Skaar Golf Tournament committee, will continue to monitor all guidelines set forth from the MDH and other related governing bodies to ensure the highest standard of safety for all participants, tournament volunteers, and employees of the club.
Approved August 25, 2020
Faith C. Hensrud, President
Bemidji State University