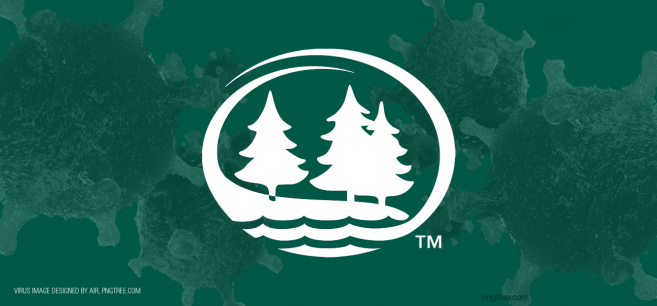 Dear Student:
Spring Break is nearly here, and traveling off campus means you may bring COVID-19 with you. You can take it with you if you have contact with someone with COVID-19 before you leave, or you could bring it back to Bemidji if you have contact with someone with COVID-19 while traveling.
It is important to remember the following:
Before you leave:
If you know you will be traveling, lay low before you go! Stay home and stay at least six feet apart from others as much as you can before you travel. Stay away from large crowds, gatherings, etc. Wear a face covering whenever you leave home or your room.
Get tested. As a reminder, a free pre-break COVID-19 testing event for all interested Bemidji State University and Northwest Technical College students is TODAY, March 2, from 9 a.m. – 12 p.m. in the ground-level lobby of BSU's physical education complex. Information about this testing event was shared with you via email yesterday.
If your test is negative, continue to lay low until you go. If you are positive, you need to stay home and away from other people (isolation) as much as possible for at least 10 days. Also please remember to reach out to our Student COVID Hotline at (218) 755-2910.
During travel, wear a face covering, stay at least six feet away from others as much as possible, and wash your hands a lot, or use hand sanitizer.
After you return:
If you've left campus for an extended period of time, limit who you see and where you go before heading back to campus.
Once you return to campus, lay low when you get back, in case you were exposed to COVID-19. You should do this for at least a week – two weeks if you can. Keep to yourself and limit the activities you participate in. This helps slow down the spread of COVID-19 on your campus and in your community; it also helps to prevent new variants of COVID-19 from spreading.
Remember to get tested five to seven days after you return to campus. We will be doing another testing clinic on March 17, from 9 a.m. until noon in the PE complex lobby.
Wear a mask when you leave your home or room and limit the time you spend around your roommates or in shared living spaces for 14 days after returning.
Stay at least six feet away from others as much as possible for the first two weeks after you get where you are going. And don't be around anyone who is high risk of getting very sick from COVID-19 for at least 14 days.
Wash your hands often.
Take the steps to keep yourselves safe and limit the spread of COVID-19.
Sincerely,

Faith C. Hensrud, Ed.D.
President
Bemidji State University & Northwest Technical College
1500 Birchmont Drive NE, #3
Bemidji, MN 56601
(218) 755-2011