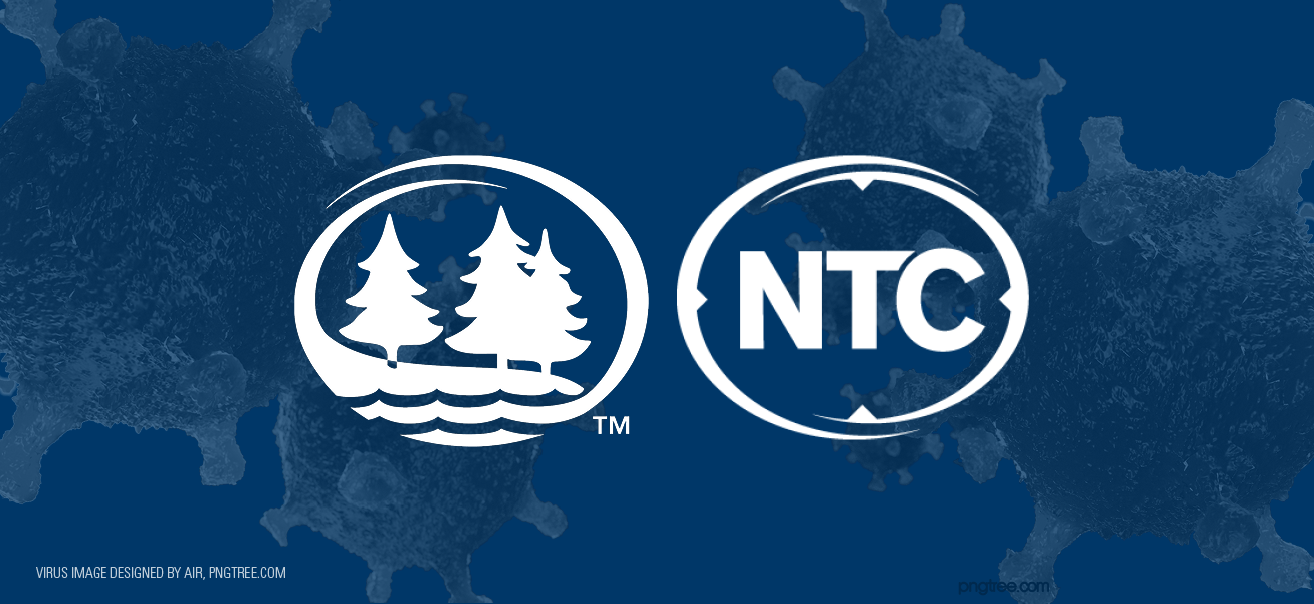 A message from President Hensrud to the Bemidji State University and Northwest Technical College campus communities on Monday, September 27, 2021:
---
BSU, NTC indoor mask mandates being extended through end of fall semester
To the BSU and NTC campus communities:
We are announcing today that our mask requirement for indoor, public spaces at both the Bemidji State University and Northwest Technical College campuses will continue for the remainder of the fall semester.
As with our previous extension, which was scheduled to end on Friday, October 1, this extension of our mask mandate is being driven by COVID-19 transmission conditions in Beltrami County. As a reminder, our process calls for mask requirements when:
Beltrami County's COVID-19 transmission status is rated by the Centers for Disease Control and Prevention as Substantial and remains there for a period of seven (7) consecutive days, or
Immediately upon being rated as High transmission status.
Current trends in Beltrami County make it unlikely that we will see conditions which will allow us to lift our mask mandate — being rated as a Low- or Moderate-transmission county for 14 consecutive days — any time this semester. A detailed explanation as to how we arrived at this decision is included below.
The CDC transmission rating for Beltrami County is monitored daily, and as has been our practice throughout the pandemic our COVID-19 response will be guided by changes in local conditions and any revised guidance from the Minnesota Department of Health, the Minnesota State system, CDC recommendations, and other state and federal authorities.
How we are examining CDC data for Beltrami County
While there are two factors that are checked to determine a county's transmission status, Beltrami County's transmission rating has been driven by the number of new cases in a seven-day rolling period per 100,000 population. CDC defines Substantial spread as having 50 or more new cases per 100,000 population in the previous seven days, and High spread has having 100 or more.
Beltrami County was first elevated to High transmission status on Sunday, August 7, and we have remained there each day since. On Friday, September 24, the county reached a new peak of 300 cases in a seven-day period between Sept. 18-24. The CDC uses 47,188 as the population for Beltrami County; 300 cases is 635.75 cases per 100,000 population.
Our future projection of the first likely date we would be able to lift our mask mandate is based on an assumption that our *decline* to Low or Moderate spread will directly mirror the rise to our peak number of cases. This assumption is based on examination of case rates for Fall 2020. During that peak, Beltrami County hit Substantial spread on September 28 and climbed to a peak of 399 cases in a 7-day rolling window that ended on Nov. 29 — a period of 62 days — and then declined back to Moderate spread on January 22 — a period of 54 days.
The projection also takes into account Minnesota State's requirement that counties be at Low or Moderate spread for a period of 14 days before a mask mandate can be lifted.
These assumptions and our current COVID-19 conditions led to the following logic for extending the mandate:
Our peak of 300 new cases in a 7-day period was Friday, September 24; this marked the county's 50th consecutive day at High spread.
Beltrami County was at Substantial spread for 3 days before reaching High spread.
Plotting a potential decreasing case rate that mirrored our rise to the September 24 peak — 50 days at High spread plus 3 days at Substantial spread — projects Wednesday, November 17, as the date we could return to Moderate spread.
Our system-mandated 14-day countdown while at Low or Moderate spread before lifting a mask mandate would begin November 17 and, if unbroken, would end on Monday, November 30.
If this all occurred as projected, we would announce on November 30 that the mask mandate was ending effective the next business day, which is Wednesday, December 1.
With Reading Day being the next week — on Wednesday, December 8 — there remain only five class days between the first likely day we could end our mask mandate and the beginning of final exams. Given these conditions, the decision was made to require masking for the remainder of the fall semester.
Thank you, once again, for your flexibility and patience in the face of this crisis.
If you have questions about our masking protocols or any other COVID-19-related topic, share it with us using the I Have a Question form on the Coronavirus website.