We know that this is a hard time for everyone and we are doing all that we can to ensure the success of our students, faculty and staff. Return to COVID-19 homepage.
---
COVID FAQ for Students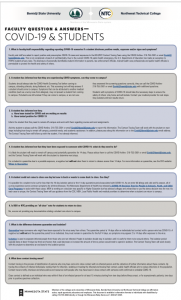 Are you getting COVID-related questions from students that you're not sure how to answer? Are your COVID-related responsibilities as a member of our faculty or staff not clear? This FAQ could help. Click to download.
Accounts Payable and Purchasing
BSU/NTC Community Resource Guide
Caring for Others
Financial Resources
Finding Assistance
Financial Support
Student Loan Payment Assistance
Paying Utility Bills
Human Resources
Information Technology Services
Leadership Resources
Physical and Mental Health
Professional Development
Online/Alternative Delivery Instruction
Remote Resources
Telework and Working from Home
Voicemail and Email
Zoom