---
COVID FAQ for Students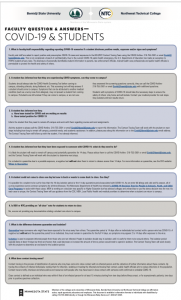 Are you getting COVID-related questions from students that you're not sure how to answer? Are your COVID-related responsibilities as a member of our faculty or staff not clear? This FAQ could help. Click to download.
Accounts Payable and Purchasing
BSU/NTC Community Resource Guide
Caring for Others
Financial Resources
Finding Assistance
Financial Support
Student Loan Payment Assistance
Paying Utility Bills
Human Resources
Information Technology Services
Leadership Resources
Physical and Mental Health
Professional Development
Online/Alternative Delivery Instruction
Remote Resources
Telework and Working from Home
For more helpful information take a look at the Knowledgebase or the CEL department site.
What you need to successfully work from home
Users with laptops assigned to them should plan to use those devices at home. Users without assigned laptops should plan to use their home computers and laptops.
Minimally:
Reliable, high-speed internet.
Newer computer (Recommended less than 5-years-old with at least 8GB of RAM, and Windows 10)
Recommended:
Headset with microphone (It is recommended to use a headset, even at home, to help eliminate feedback and to provide better sound quality.)
Phone access (Having a phone is not required, but highly recommended, as a backup in case you experience technical difficulties.)
Voicemail and Email
Zoom
---