Job listing & posting has moved to Connect2Careers through Career Services!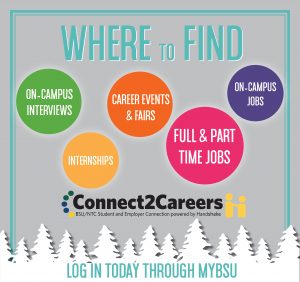 Student worker position and job announcements should be emailed to career@bemidjistate.edu
Student Employment and Careers

Find your next job, internship or on-campus employment using BSU's Connect2Careers program that allows you to explore positions from over 200K employers. Discover full & part-time jobs, internship opportunities, career fairs & events and on-campus events.
Questions?
Lisa Gubrud ext. 2405
Molly Aitken ext. 2406
*Please note this is only job postings. All other student employment items have not changed.