Student Employment Procedure
1. Finding a Job
Search through jobs available through Connect2Careers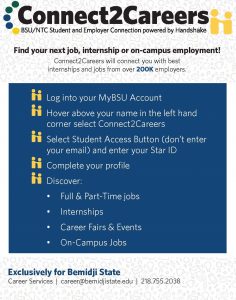 2. Once you have secured a job
Bring your authorization form, completed by you and your supervisor, to the Student Employment Office (D202).
If you have work-study, you will have complete the top portion of the 2018-2019 Work Study Authorization. Your award letter will include your work study award amounts. Have your supervisor fill out the bottom portion of the form and bring it to the Student Employment Office.
If you have regular payroll, your supervisor will have an authorization form for you or you can pick one up at the Student Employment Office. Supervisors – if this is a stipend due to a special project, please note so on the regular payroll authorization form!
If you have never worked on campus before:

US Citizens:

Will need to fill out a W-4 form and an I-9 form (bring along with a passport, or a combination of picture ID and either an original Social Security Card or certified Birth Certificate).

International students:

Will need to fill out at W-4 form and I-9. Should bring 1-20, 1-94, current passport and social security card.
If you do not have a social security card; please stop at the Student Employment office in Deputy 202.
If bringing a driver's license or passport it must be current. This documentation needs to be completed before you can begin working.
Once we have all needed forms on file, a timesheet will be made available for you through eServices.
3. Getting Paid
Timesheets are required to be submitted through eServices to your supervisor for approval, every two weeks based on the Student Payroll Schedule, on the last day of the pay period.
Paychecks can be directly deposited into a bank account or mailed to your permanent address.  You can initiate and maintain direct deposit banking information through your BSU e-Services account. If you do not set up direct deposit, a check will be mailed to your permanent address on file with the Records office.
---
Student Employee Hour & Day Limits
The employment hours of student employees must follow the Federal and State labor agreement rules and laws. Students may not volunteer "extra hours" while employed in a department or be asked to put in more time than what they can be legally paid.
| | |
| --- | --- |
| Max number of days per timesheet | 10 |
| Max hours worked in one day | 8 |
| Max hours worked in one week | 20 |
| Max hours reported per timesheet | 40 |
Full time hours are ONLY permitted during summer or semester breaks. (8 hrs per day, 40 hrs per work week, 80 hrs per time sheet) NOTE:  Overtime is not permitted.
If a student works an 8 hour day they should be recording their 1/2 hour unpaid break.
---
Student Wage Scale
Effective January 1st, 2019
| | |
| --- | --- |
| 0-750 hours | $9.90 |
| 751-1000 hours | $10.10 |
| 1001+ hours | $10.50 |
Any special rates exceeding the above require approval from the VP of Finance.
Updating W-4
Students may update their withholding during the year. The W-4 form needs to be completed and original needs to be dropped off at the student employment office in Deputy 202.