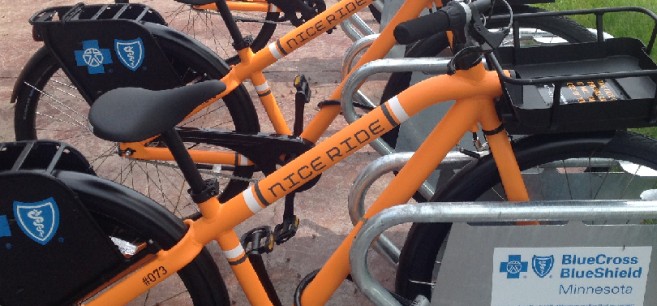 Even before the program has officially opened, Bemidji State University's Outdoor Program Center boathouse already is proving to be a busy hub of activity for the community's Nice Ride bicycle rental program.
Bemidji's Nice Ride program has its grand opening June 22, but for the last week around 30 beta testers have been using the service – reserving the unmistakeable orange Van Moof bikes online and giving rental center staff time to learn how to manage and administer the service.
There currently are 35 bikes available for rent at three locations in Bemidji – 10 at the Hampton Inn on Lake Bemidji's south shore, 10 at BSU's OPC Boathouse and 15 at the Tourist Information Center downtown. There will be 10 available at a forthcoming Lake Bemidji State Park location as well.
"We have been keeping it quiet to give folks time to get familiar with the website and the admin interface," said Melinda Neville, manager of Nice Ride Bemidji. "People are really excited. It has been fun to see people interacting with the bikes before our people have been trained at the stations."
She said the number of inquiries Nice Ride has received at the three available rental sites has been impressive, and that only about two-thirds of the early users of the service have officially been part of the beta test.
"Others just saw the bikes and asked if they could ride one," she said. "So it's been a good mix."
The BSU boathouse location also plays a significant role in Bemidji's inaugural Loop the Lake Festival, a community ride that was intentionally scheduled to take place near the opening date for the Nice Ride program. The June 21 festival features a number of stops for food, music and activities during a 17-mile tour of the trail surrounding Lake Bemidji. The boathouse is one of the early stops on the tour, and Nice Ride is offering reduced rates for bikes being rented for use in the festival.
The Minneapolis-based Nice Ride is using the Bemidji program as a three-year pilot to explore the viability of its successful urban bike rental programs in greater Minnesota.
"Community investment will be the key driver for what happens in year four," Neville said. "From my perspective, the community support has been overwhelmingly enthusiastic."
About Nice Ride
Nice Ride Bemidji is a traditional bike rental service, offering bikes at four locations around Lake Bemidji. Bikes can be rented for $6 per hour, and week-long rentals are available for $80. Discounts are available to Bemidji residents for Monday-Thursday rentals.
BSU will host 100 Nice Ride bikes for semester-long rentals to students, which will be administered separately from the other 100 bikes in the community rental program.
Nice Ride launched in Minneapolis in June 2010 and now provides a total of 170 stations and 1,550 bicycles in the Twin Cities. The program processed more than 54,400 24-hour subscriptions and a total of 274,500 rentals in 2012. Members of the Minneapolis Nice Ride program receive a discount on rentals in Bemidji.
Contact
• Melinda Neville, manager, Nice Ride Bemidji; mneville@niceridemn.org
• BSU Outdoor Program Center; (218) 755-2999
• Nice Ride Bemidji customer service; (877) 551-6423, bemidji@niceride.org
Links
• BSU Outdoor Program Center
• Nice Ride Bemidji
• Bike Bemidji