Bemidji State University officially kicked off a planned 18-month celebration of the university's 100th anniversary at a series of on-campus events, held April 12.
With two former university presidents — Dr. M. James Bensen, BSU's eighth president who served from 1994-2001, and Dr. Jon E. Quistgaard, who succeeded Bensen and served from 2001-2010 — in attendance, BSU kicked off its Centennial celebration with a music and dance-filled presentation in the Bangsberg Fine Arts Complex.
The event, which was emceed by Dr. Tony Peffer, BSU's provost and vice president for academic and student affairs, featured opening remarks from Minnesota State system Trustee Roger Moe, BSU student Tess Heyer and President Faith C. Hensrud.
Heyer, a senior business administration major from Owatonna, Minn., spoke of the many opportunities Bemidji State had provided for her, which illustrated the university's invaluable role in helping students discover their callings.
"The opportunities at Bemidji State University are endless," she said. "It was my decision to come here that has set me up for a successful future."
President Hensrud said to the crowd in attendance, estimated at just over 200, that the kickoff celebration was just the beginning of Bemidji State's recognition of its first century of existence.
"The history we are here to honor and celebrate is not some faraway land or parallel universe," she said. "In fact, every day as we go about our business on this remarkable campus, we are walking in the very footsteps of the generations who came before us."
She introduced a video (embedded above) recapping BSU's first century of existence by reminding those in attendance that while they may see some familiar sites in the historical photos of the physical campus, it is the people seen in the video who have played the most important role in guiding the university.
"While the buildings are essential, it is the people who shape the character of a university," she said. "Your passion and commitment to this great institution — and most importantly to our students — will carry us into the next century.
The video recapped significant moments during the university's first century, interspersed with performances by BSU students. The university's Blue Ice jazz band, the BSU Dance Team and the Bemidji Choir provided entertaining interludes during the video with era-appropriate song and dance.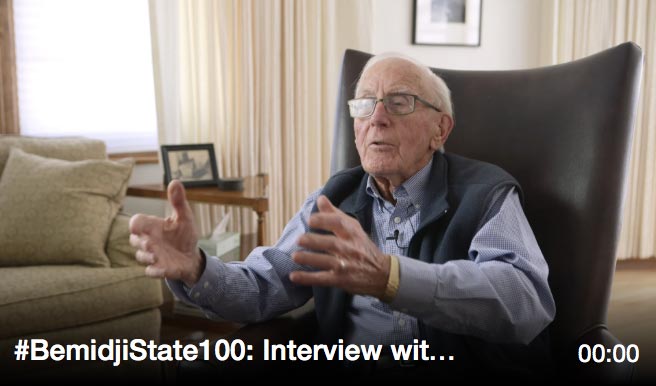 The video interview with Art Lee shown during the luncheon is available on Vimeo.
Following the kickoff ceremony, BSU Alumni & Foundation hosted an invitation-only luncheon for alumni at the American Indian Resource Center. That luncheon, which included recognition of three new inductees into the university's Golden Beaver Society for people who graduated from Bemidji State more than 50 years ago, featured a video interview with BSU Professor Emeritus of History Dr. Art Lee. Lee retired in 1995 after a 36-year career at BSU and is the author of "University in the Pines," a definitive history of BSU from its founding until its 75th anniversary in 1994.
For the day's final event, Hensrud and others cut a ribbon to dedicate the central plaza between the university's upper and lower Hobson Memorial unions as Centennial Plaza to commemorate the university's anniversary.
Hensrud said the dedication was "meaningful as a reminder and a tangible connection to the commitment, sacrifice and innovation that brought us to this day."
She provided an explanation for six commemorative banners on Centennial Plaza that were added by BSU facilities crew just this week. The banners highlight six key moments in the university's history.
"We may change these banners over time, or add new ones, but the meaning of Centennial Plaza will remain the same: a reminder of past achievement and enterprise – and an ongoing commitment to our students' success and our institution's contribution to a better world," she said.
Bemidji State opened in 1919 with 38 students as Minnesota's sixth Normal School for teacher education. It became Bemidji State Teachers College in 1921 and began offering a four-year degree, and was renamed Bemidji State College in 1957. In 1975, in recognition of its growing role as a multipurpose institution, it became Bemidji State University. Today, the university serves more than 5,100 students as a member of the Minnesota State system of colleges and universities.
Bemidji State University, located amid the lakes and forests of northern Minnesota, occupies a wooded campus along the shore of Lake Bemidji. Enrolling more than 5,100 students, Bemidji State offers more than 80 undergraduate majors and eight graduate degrees encompassing arts, sciences and select professional programs. BSU is a member of the Minnesota State system of colleges and universities and has a faculty and staff of more than 550. The university's Shared Fundamental Values include environmental stewardship, civic engagement and international and multicultural understanding.
---
2018-B-L-097