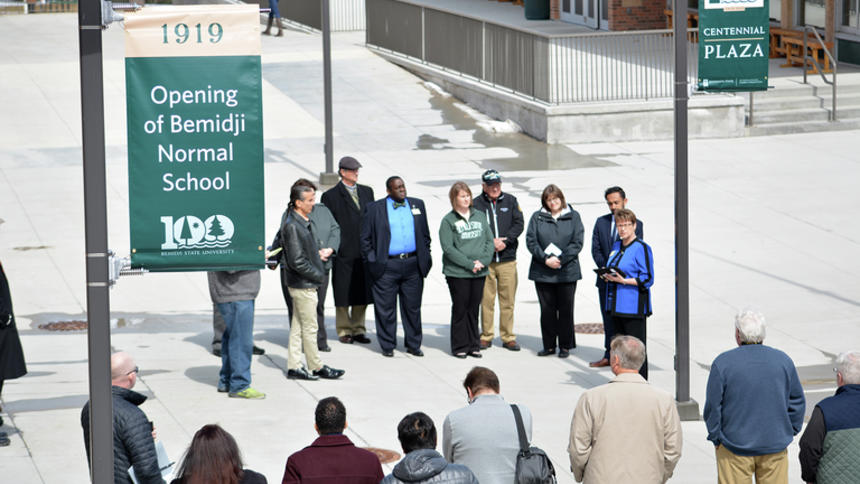 BEMIDJI—Staff at Bemidji State University on Thursday began an 18-month long 100th birthday party for the school.
University leaders spoke at a kickoff celebration Thursday morning, interspersed with song and dance and video highlights of the school's history. Then it was off to an alumni luncheon and, later, a dedication ceremony for "Centennial Plaza," an open space between the upper and lower sections of Hobson Memorial Union.
"The past is always with us," said Faith Hensrud, president of BSU and Northwest Technical College.
She and other university leaders, plus past presidents Jon Quistgaard and James Bensen, cut a green ribbon to formally name the plaza, which Hensrud said is intended to be a permanent reminder of the 100-year milestone. Names like "central" and "union" plaza haven't stuck in years past.
The plaza has several newly installed banners commemorating the school's founding, its first varsity women's sports, and more.
"We may change these banners over time, or we may be adding new ones, but the meaning of the Centennial Plaza will remain the same," Hensrud told those at the dedication. "It's a reminder of past achievement and enterprise and our ongoing commitment to our students' success and to the institution's contributions to a better world."
Crews broke ground on the university about 100 years ago this spring, and the school's first classes convened in the fall of 1919—100 years before the culmination of BSU's celebration in fall 2019.