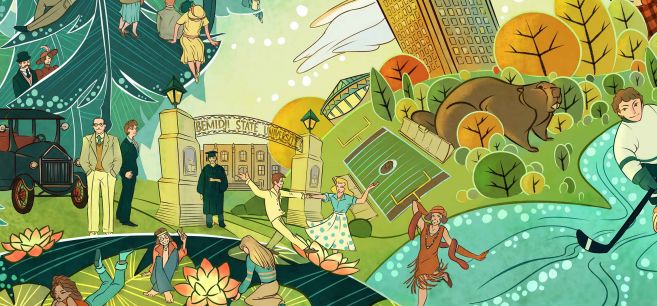 In honor of the 100th anniversary of Bemidji State University, the Ramsey Gallery in the Bangsberg Fine Arts Complex is now showcasing the history of the university in the form of an interactive gallery through the decades. Historical archives, photographs, posters, clothing, keepsakes and other notable items related to the Bemidji State's history fill the gallery as a part of the 18-month recognition of Bemidji State's centennial year. Two decades are showcased per case, dating back to the year 1919, the first year classes were held.
"Although the Centennial display foregrounds many of Bemidji State's artifacts, the artifacts are complemented by an intriguing written history of the university," said Colleen Deel, interlibrary loan and collection management librarian at BSU. "I like to think of Bemidji State's artifacts as the physical manifestations of the university's past history. Artifacts can impact our present campus life by helping to tell the BSU community the stories of our past and lead us to a better understanding and appreciation of our present."
The centennial kickoff was held on April 12, just days after the 100th anniversary of groundbreaking for "The Main," a building which would house the state of Minnesota's sixth normal school for teacher education. The crews began clearing trees for The Main's construction on April 4, 1918, and the building was ready to host its first class of students in 1919.
What started as Bemidji Normal School in 1919 grew into Bemidji State Teachers College, then to Bemidji State College and, finally, in 1975 to Bemidji State University. The two dozen students who first entered The Main to fulfill their dreams of becoming teachers also took the first steps of the 100-year journey to become a campus that today is home to more than 5,000 students enrolled in 65 undergraduate and nine graduate degree programs.
The centennial gallery is free and open to the public and will allow the community to learn about and celebrate Bemidji State's rich history dating back 100 years.
"This is a rare opportunity to see artifacts that seldom leave the university's archive," said Deel. "More importantly, the display tells a cohesive and compelling story of Bemidji State's 100 years. This is a once-in-a-lifetime event!"

Bemidji State University, located amid the lakes and forests of northern Minnesota, occupies a wooded campus along the shore of Lake Bemidji. Enrolling more than 5,100 students, Bemidji State offers more than 80 undergraduate majors and eight graduate degrees encompassing arts, sciences and select professional programs. BSU is a member of the Minnesota State system of colleges and universities and has a faculty and staff of more than 550. The university's Shared Fundamental Values include environmental stewardship, civic engagement and international and multicultural understanding. For more, visit bemidjistate.edu or find us at BemidjiState on most of your favorite social media networks.
2019-B-047