Bemidji State University celebrated its centennial commencement ceremony and 100th graduating class May 10 at the Sanford Center. BSU's Class of 2019 included:
60 students who were eligible to receive master's degrees. BSU awarded 15 master of science degrees, 14 master of arts in teaching degrees, 16 master of special education degrees, four master of arts in English degrees and 11 master of business administration degrees;
1,161 students who were eligible to receive undergraduate degrees, including 268 graduates from BSU's College of Arts, Education & Humanities, 408 from the College of Business, Mathematics and Science and 485 from the College of Individual & Community Heath;
416 undergraduates who graduated with honors: 146 Summa Cum Laude honorees, 138 Magna Cum Laude honorees and 132 Cum Laude honorees;
42 American Indian graduates; and
46 military personnel or veterans.
Distinguished Minnesotan Alan C. Page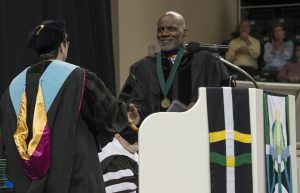 The Honorable Alan C. Page, Minnesota's first African-American supreme court justice, former Minnesota Vikings player and pro football Hall of Fame inductee, applauded the centennial class of graduates for their dedication to completing their education.
"To today's graduates, let me say congratulations for a job well done. Your preparation and hard work have paid off and you should be very proud," he said. "What a wonderful gift you have given yourselves."
Throughout his address, Page challenged graduates to be people of character and recalled a phrase from his time in the Supreme Court that has stayed with him throughout his life.
"Etched into the facade of the Supreme Court building is the saying 'equal justice under law.' But the law has not always provided justice to all, much less equal justice to all segments of society," he said. "In my view, until we all receive justice, none of us receive justice."
He urged graduates to follow the path that is not always easy, but that is right, as their degrees from Bemidji State will open many doors for their future. Page told graduates that their path to success involved pushing themselves beyond self-perceived limitations, being willing to get involved in their communities and doing the work needed to be prepared for the situations life brings to them.
Page finished his 2019 Distinguished Minnesotan address with a wish for each graduate.
"As a member of the class of 2019 you are among the privileged few," he said. "Use the privilege, the power that comes with it and the tools you acquired at Bemidji State to bend the moral arc of history towards equal justice for all."
BSU President Faith C. Hensrud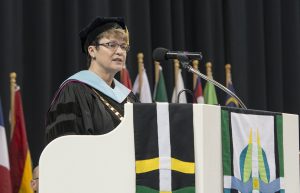 BSU President Faith C. Hensrud opened her remarks by highlighting the transformations and celebrations of Bemidji State's Centennial year. She also recognized the Class of 2019 as being a part of a special milestone at Bemidji State as its 100th class of graduates.
She recalled the very first Bemidji Normal School graduating class which celebrated its graduation one hundred years ago, in 1919.
"Our first graduating class had four students. Those students could not have known that, as their school grew, their graduating class of four would grow into the class we celebrate today," she said. "This year, we invited more than 1,200 students to participate in today's ceremony. This is remarkable and fills me with great pride as your president."
In closing, she shared her congratulations, pride and hopes for the centennial class.
"At Bemidji State, our vision is simple — we educate people to lead inspired lives," Hensrud said. "For in this vision lies our greatest wish for you — that your achievement in graduating from Bemidji State University is but the first step toward a life that inspires you and those around you."
BSU Student Speaker: Elizabeth Thurlow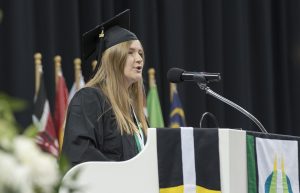 Elizabeth Thurlow, a graduating nursing student from Nisswa, Minn., congratulated her fellow graduates as she recalled her own journey to complete her degree.
"To successfully complete a college degree is not an easy task," she said. "Looking back, I remember study sessions with friends, my nursing exams and reading textbooks – chapter after chapter. I, like many students, went through a couple of unpredictable changes. It's important to note that these changes in life are what shape us and what makes us what we are today."
In challenging times, Thurlow encouraged graduates to face their obstacles head on and offered advice to move forward with curiosity instead of resistance.
"I hope you stay curious on your path today. My father taught me to show up, work hard, take as many opportunities as you can, thank those who have helped you and, most importantly, use common sense," she said. "Things can and will change quickly in life, but everything will happen for a reason."
Minnesota State Trustee George Soule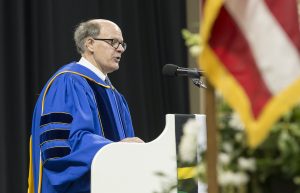 George Soule, a trustee of the Minnesota State Colleges and Universities system, congratulated graduates on behalf of the Board of Trustees, Chancellor Devinder Malhotra and the system's 16,000 faculty and staff members at its 54 campuses.
"Each of you took your own unique paths to get here today and I suspect it wasn't easy for some of you. Some had to overcome barriers to get into college and stay in college. Many of you were first in your families to get into college," he said.
Soule joined the graduates in thanking the parents, mentors, professors and role models who helped each student along their journey. He also encouraged the students to give back to BSU and to strive for greatness in life.
"Carry the mission of the university with you everywhere you go," he said. "Take advantage of your opportunities. Rise to the top of your field of work, give back to your communities, do great things, make a mark and create a legacy."
Cum Laude Honors
The practice of recognizing outstanding academic achievement with Cum Laude honors dates to the earliest European college and university practices in the 13th century. Summa Cum Laude denotes graduates with cumulative grade point averages of 3.90 or higher, Magna Cum Laude recognizes those with GPAs between 3.70 and less than 3.90 and Cum Laude recognizes those with GPAs between 3.50 and less than 3.70.

Bemidji State University, located amid the lakes and forests of northern Minnesota, occupies a wooded campus along the shore of Lake Bemidji. Enrolling more than 5,100 students, Bemidji State offers more than 80 undergraduate majors and eight graduate degrees encompassing arts, sciences and select professional programs. BSU is a member of the Minnesota State system of colleges and universities and has a faculty and staff of more than 550. The university's Shared Fundamental Values include environmental stewardship, civic engagement and international and multicultural understanding.
---
2019-B-152