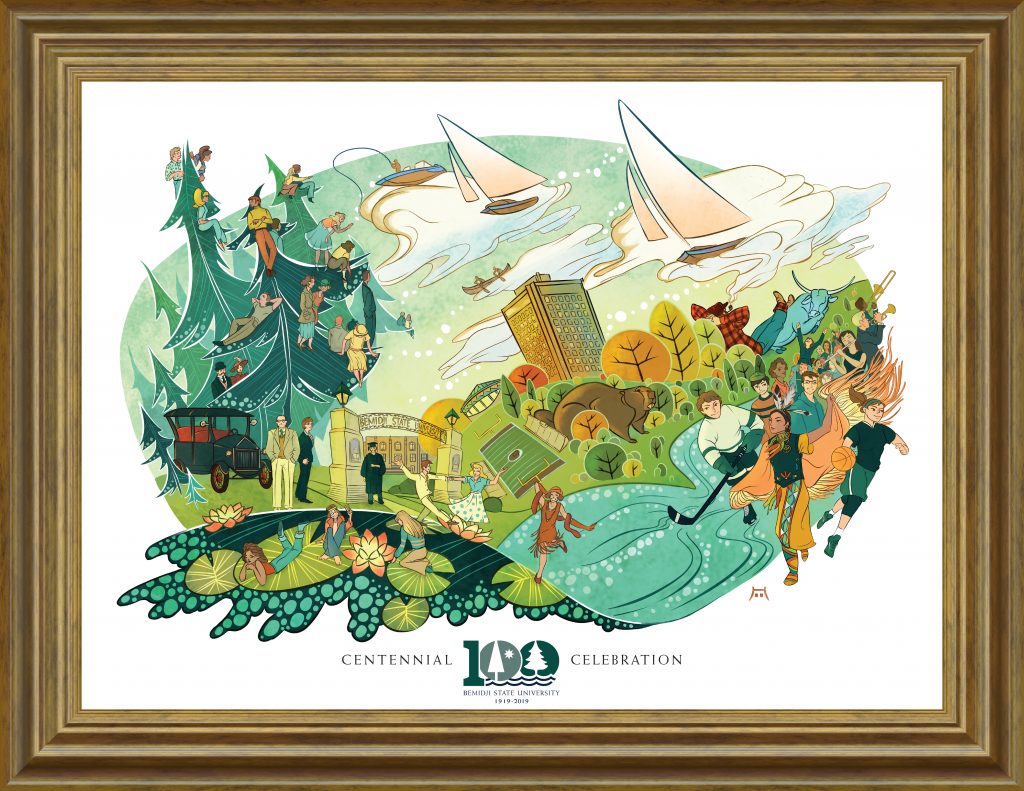 In June 2019, Bemidji State University's Office of Communications and Marketing won a Circle of Excellence award for a poster design from the Council of Advancement and Support of Education (CASE). This poster was illustrated by 2017 BSU alumna Hope Wall.
Wall was asked to design the poster after she served as a student worker for Mike Lee, graphic design and publications coordinator, in the Office of Communications and Marketing.
"Working with Mike as a student worker was the best thing for me," she remembers. "I got to design a lot of posters for the school. Sometimes I did simple illustrations for the posters, other times I designed a whole planner."
Looking for inspiration for the Centennial poster, Wall gathered both historic and present day photos of Bemidji State. She then began sketching the photos to piece together her vision.
"I remember that this was probably one of the most difficult illustrations I've ever done," Wall said. "I incorporated all different eras and subjects, from sports to iconic things about Bemidji. I didn't want it to look boring like a timeline."
Wall was excited to design the signature Centennial piece as she has an eye for the artistic and holds a bachelor's degree in art & design with an emphasis in graphic design and studio arts from BSU.
BSU's design program, housed within the School of Technology, Art & Design, offers students the core knowledge of art and design. Courses provide a breadth of knowledge and skills in the elements and principles of art and design, drawing foundations, 2D and 3D design software, design history and color theory. Because BSU's design program is so broad, this allows students to choose from one or more pathways to specialize in, including graphic design, exhibit design and studio arts emphases.
"In the design program, you learn about composition, balance and color theory. That all plays into illustration," Wall said. "I learned how to compose a satisfying image. For the Centennial image, I had to learn how to balance so many elements and not make it overloaded."
When she first enrolled in the design program at BSU, Wall immediately felt she had found her place.
"I remember thinking 'this is where I belong,''" she said. "All the teachers I had were super helpful, nice and knowledgeable."
Now, Wall resides in Big Lake, Minn. and works for Lab Zero doing animation work for video games. In response to winning the CASE award, she is grateful and honored.
"I wasn't expecting anything from CASE for my poster," she said. "I'm just excited and it feels good to recognized."
Contact
Links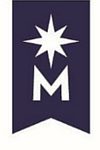 Bemidji State University, located amid the lakes and forests of northern Minnesota, occupies a wooded campus along the shore of Lake Bemidji. Enrolling more than 5,100 students, Bemidji State offers more than 80 undergraduate majors and eight graduate degrees encompassing arts, sciences and select professional programs. BSU is a member of the Minnesota State system of colleges and universities and has a faculty and staff of more than 550. The university's Shared Fundamental Values include environmental stewardship, civic engagement and international and multicultural understanding. For more, visit bemidjistate.edu or find us at BemidjiState on most of your favorite social media networks.
---
2020-B-011