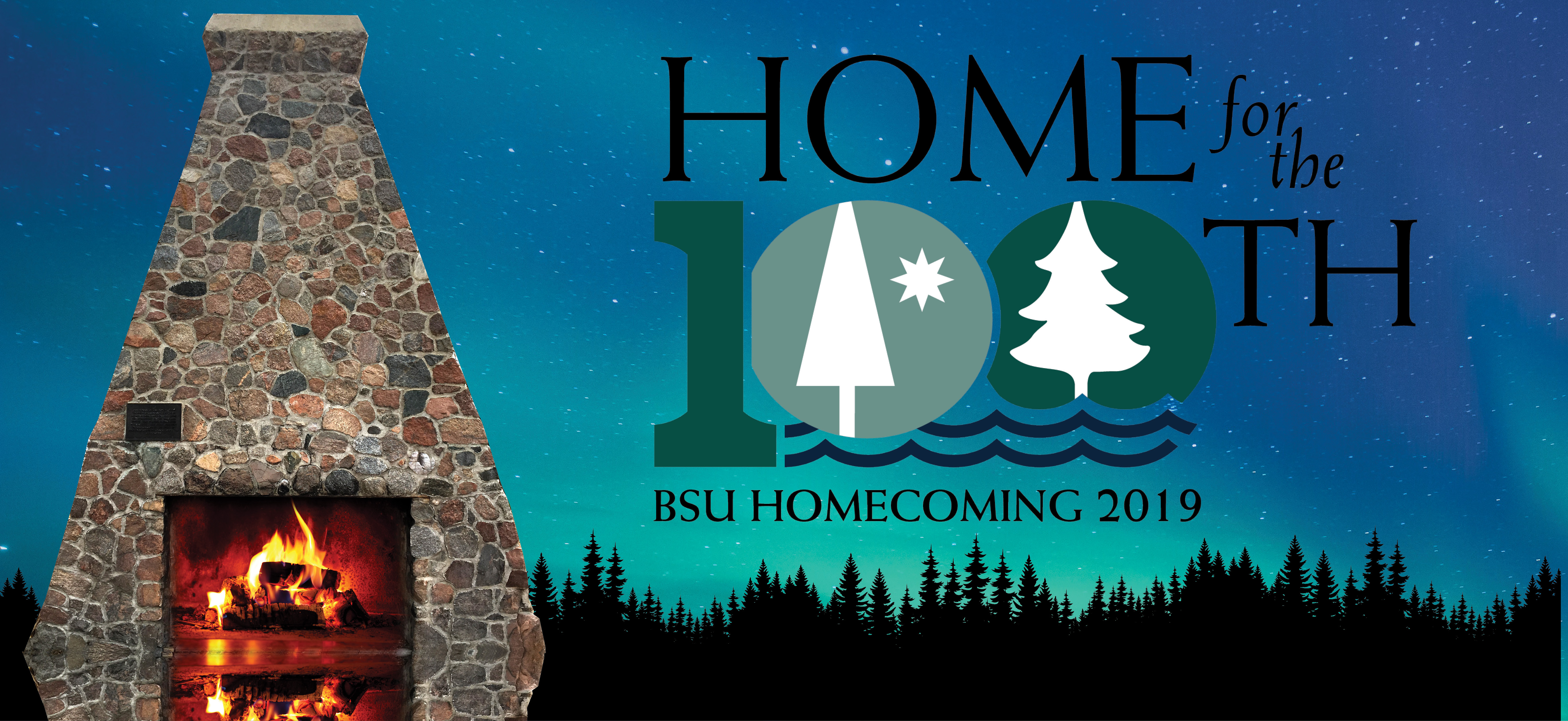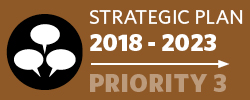 One hundred years ago, in 1919, the Bemidji Normal School – what is now Bemidji State University – was just getting settled into its new home in the thick north woods on the shores of Lake Bemidji.
For the last 18 months, Bemidji State has been celebrating its 100-year history, a celebration which will officially come to a close at BSU's annual Homecoming activities beginning Thursday, October 3.
A full weekend of events begins October 3 at 4 p.m., when BSU's Office of Communications & Marketing will host a special ceremony to install a centennial-themed time capsule on the Bemidji State University campus. The time capsule, which will be planted just north of the lower Hobson Memorial Union, will include artifacts from both BSU and the Bemidji community that reflect life in 2019 and our current student experience.
The centennial time capsule will include a wide selection of items, including a letter from BSU President Faith C. Hensrud, branded merchandise such as t-shirts, hats and note pads, a current campus map, a copy of BSU's 2018-2023 Strategic Plan, a hockey puck, a current academic course catalog, a diploma cover given to graduates at commencement and more.
The ceremony will include remarks from President Hensrud and Mr. Al Nohner, a BSU alumnus and director emeritus of its Office of News & Publications.
Immediately following the time capsule planting ceremony, BSU will publicly unveil the contents of a second time capsule — this one left in the cornerstone of Deputy Hall during its construction in 1918. The reception and exhibition will be held in the Ramsey Gallery of BSU's Bangsberg Fine Arts Complex.
Bemidji State's 2019 Homecoming weekend will officially begin when President Hensrud, Josh Christianson, executive director of university advancement, and Matthew Sauser, student body president, join together to ignite the Homecoming Flame in the historic BSU fireplace near Lake Bemidji.
In recognition of President Deputy's appreciation for regular gatherings of students and faculty, his wife, Carrie, suggested building an outdoor fireplace near the lakeshore. Students, alumni and faculty began collecting stones from which the hearth and benches were constructed in 1932 by M.O. Morse, a Bemidji mason known for the tight fit of his work. The original fireplace survives to this day, though without benches and in a location closer to the lake.
The Homecoming Flame will remain lit throughout the weekend and will be maintained by the collaborative efforts of Bemidji State students, faculty and staff. The fireplace will be extinguished after the Carl O. Thompson concert scheduled for 3 p.m. on October 6.
On Friday, October 4, Bemidji State's annual Alumni Leaders in the Classroom panels will present topical programs that bring BSU graduates back to campus to share professional experiences with students, staff and the community. This year's schedule includes business, accounting, marketing and education panels. Participating alumni are listed in below.
That evening, the annual Honors Gala celebrating Bemidji State's alumni award recipients, President's society donors and legacy society members will begin with a black-tie optional cocktail hour with a dinner and program to follow.
On Saturday, October 5, a full day of activities begins with a new student-led pancake feed in the Beaux Arts Ballroom of BSU's Upper Hobson Memorial Union, starting at 9:30 a.m. The traditional BSU Homecoming Parade will begin at 11 a.m. with Dr. Devinder Malhotra, chancellor of the Minnesota State system of colleges and universities, assuming the role as Grand Marshall. The parade, which is moving back to campus this year, will travel down Birchmont Drive starting at the Bangsberg Fine Arts Complex and end at the corner of Birch Lane and 17th Street NE.
The procession, featuring Bemidji State student organizations, sport teams, Bucky the Beaver, President Hensrud and community members, will lead into a pre-game tailgate party at Diamond Point Park beginning at noon. The Beaver football team looks to continue its tradition of a jump into Lake Bemidji following a Homecoming win as it takes on Augustana University at 2 p.m.
On Sunday, October 6, BSU's Department of Music will wrap up the Homecoming weekend with its annual Carl O. Thompson Memorial Scholarship Concert. The concert will feature performances by BSU's Chamber Singers, Wind Ensemble and Blue Ice, with solo performances by three BSU students — pianist Angelica Novinger of Bemidji and trombonists Noah Harstad from Fertile, Minn., and Tim Roehrich from Baxter, Minn. All three soloists are seniors — Novinger and Harstad are music majors, while Roehrich is studying music education — and each will receive music scholarships from an endowment established in Thompson's name. Carl O. Thompson.
Thursday, Oct. 3
4 p.m. – Bemidji State University Time Capsule. Hobson Memorial Union north lawn, BSU campus. Free and open to the public.
7 p.m. – Lighting the Homecoming Hearth. BSU fireplace, BSU campus. Free and open to the public.
Friday, Oct. 4
11 a.m.–1 p.m. – Alumni Leaders in the Classroom. Locations vary and are indicated below. All cities are in the state of Minnesota, unless otherwise noted.
11 a.m.–12 p.m. — Alumni Leaders in the Classroom: Marketing and Communications Memorial Hall Room 240. Andrew Hanson '19, marketing manager, Aramark-Bemidji State University; Sue Kingren '73, retired marketing director, Riverwood Bank, Bemidji; Rachel Munson '15, digital communications specialist, Bemidji State University.
12–1 p.m. — Alumni Leaders in the Classroom: Accounting, Memorial Hall Room 230. Wayne Maish '99, chief financial officer, Johannesons's, Inc., Bemidji; Chris Gruber '98, director, Miller-McDonald, Bemidji; Lisa Jones '05, accounting officer, Bemidji State University.
12–1 p.m — Alumni Leaders in the Classroom: Business, Memorial Hall Room 240. Than "Alan" Htaik Lwin '05, chairman, Myanmar Automotive Development Public Co. Ltd., Yangon, Myanmar; Jacob Richmann '04, Woodchuck USA, Minneapolis; Mychal Stittsworth '06, owner, Stittsworth Meats, Bemidji.
12–1 p.m — Alumni Leaders in the Classroom: Education, Bensen Hall Room 115. Kelly Blair '15, kindergarten teacher, Lincoln Elementary School, Bemidji; Dr. Boud Bradbury '88, interim dean and professor, Minnesota State University-Moorhead, Vergas; Larry Jallen '74, retired principal, Onamia Public Schools, Roseville.
11:30 a.m.–12:30 p.m. – Beaver Pride Luncheon. Upper Deck, Walnut Hall, BSU campus. Open to the public; $9.
Saturday, Oct. 5
9:30 a.m. – Hobson Memorial Union Pancake Feed. Beaux Arts Ballroom, BSU campus. Open to the public; $5 suggested donation.
11 a.m. – Bemidji State Homecoming Parade
12 p.m. – BSU Tailgate Party. Diamond Point Park. Free and open to the public.
2 p.m. – BSU Football vs. Augustana. Chet Anderson Stadium, BSU campus. Open to the public; $12 general admission, $7 seniors, $6 youth, free for students and children under the age of two.
8:30 p.m. – Bemidji State Beaver Block Party & Street Dance. Downtown Bemidji. Must be 21 or older to attend, $5
Sunday, Oct. 6
3 p.m. – Carl O. Thompson Memorial Concert. Carl O. Thompson Recital Hall, BSU campus. Free and open to the public.
Contact
BSU Alumni Association: (218) 755-3989 or toll-free (877) BSU-ALUM (278-2586); alumni@bemidjistate.edu
Links
---

Bemidji State University, located amid the lakes and forests of northern Minnesota, occupies a wooded campus along the shore of Lake Bemidji. Enrolling more than 5,100 students, Bemidji State offers more than 80 undergraduate majors and eight graduate degrees encompassing arts, sciences and select professional programs. BSU is a member of the Minnesota State system of colleges and universities and has a faculty and staff of more than 550. The university's Shared Fundamental Values include environmental stewardship, civic engagement and international and multicultural understanding.
2020-B-056