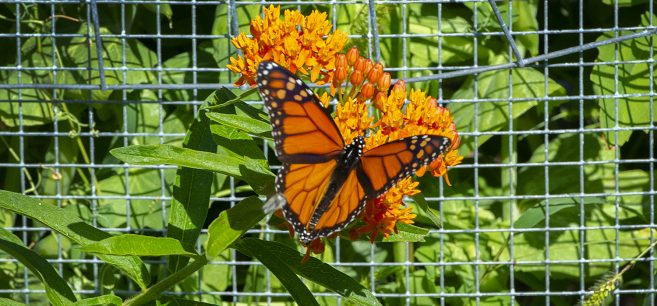 Bemidji State University's Sustainability Office has played a crucial role in maintaining a "green" campus both figuratively and literally. From recycling to sustainable landscaping, these campus leaders remain committed to ensuring a renewable and efficient campus community.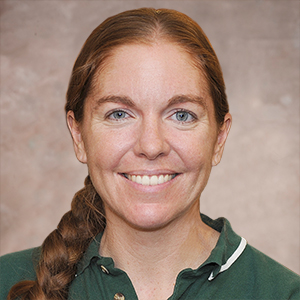 Erika Bailey-Johnson became the director of the Sustainability Office in 2008 and has since committed her time to working with others and finding ways to create a better relationship between Bemidji State and the planet. A Red Lake Nation band member with the Ojibwe name "Memengwe," meaning "butterfly woman," Bailey-Johnson feels a strong connection to pollinators and the environments that promote their well-being. This passion has reveled itself in her work on campus.
"When you have an indigenous name it brings added responsibility," she said. "Because I am Memengwe, whenever I see butterflies or anything connected to butterflies, like native plants or milkweed, it means something special to me. They are my relatives, my sisters and brothers and I have a responsibility to try to help them. I always ask myself how we can do things differently and educate people."
Over the years, the Sustainability Office has completed numerous landscaping projects both on and off campus in an effort to invigorate the relationship that Bemidji State University has to the land it occupies. Many of these projects promote the planting of native perennials in unoccupied or otherwise manicured spaces.
"These plants are cost effective, require little maintenance, attract wildlife and, most importantly, invite pollinators," Bailey-Johnson said. "Unlike manicured lawns, native plants do not need water once they are established and never need any chemical fertilizer or pesticides."
Some of the Sustainability Office's completed projects include the Butterfly Garden with pollinator plants between Sattgast and the Lower Hobson Memorial Union, the Gitigaan Garden, a community garden located on the corner of Birch Lane and 16th Street, the Rock Garden with rescued plants from various campus locations and the Centennial Garden that showcases many native plants in the plaza between the upper and lower Hobson Memorial Union.
"It is fun to see what plants thrive on campus and watch them grow and mature over the years," Bailey-Johnson said. "It is very important to re-think our relationship with the land and we have so much to learn from native plants. They support the earth's ecosystem health and we are part of that ecosystem. If the soil, water and air are healthier, then we will be healthier, too."
The completed sustainable landscape projects are only a fraction of Bailey-Johnson's vision for Bemidji State. In 2013, with the help of an environmental advisory committee, the BSU student senate and physical plant staff, the BSU Landscape Master Plan set forth a number of goals for campus. Among these goals is the construction of an outdoor classroom and an expanded, permanent bike rack.
"I am grateful for all of the faculty, staff, students, administrators and community members that have been part of the various campus landscaping projects over the last 12 years. They are full of life and we should be very proud as an educational institution to be pushing the needle in this direction," Bailey-Johnson said.
Contact
Links
2021-B-027