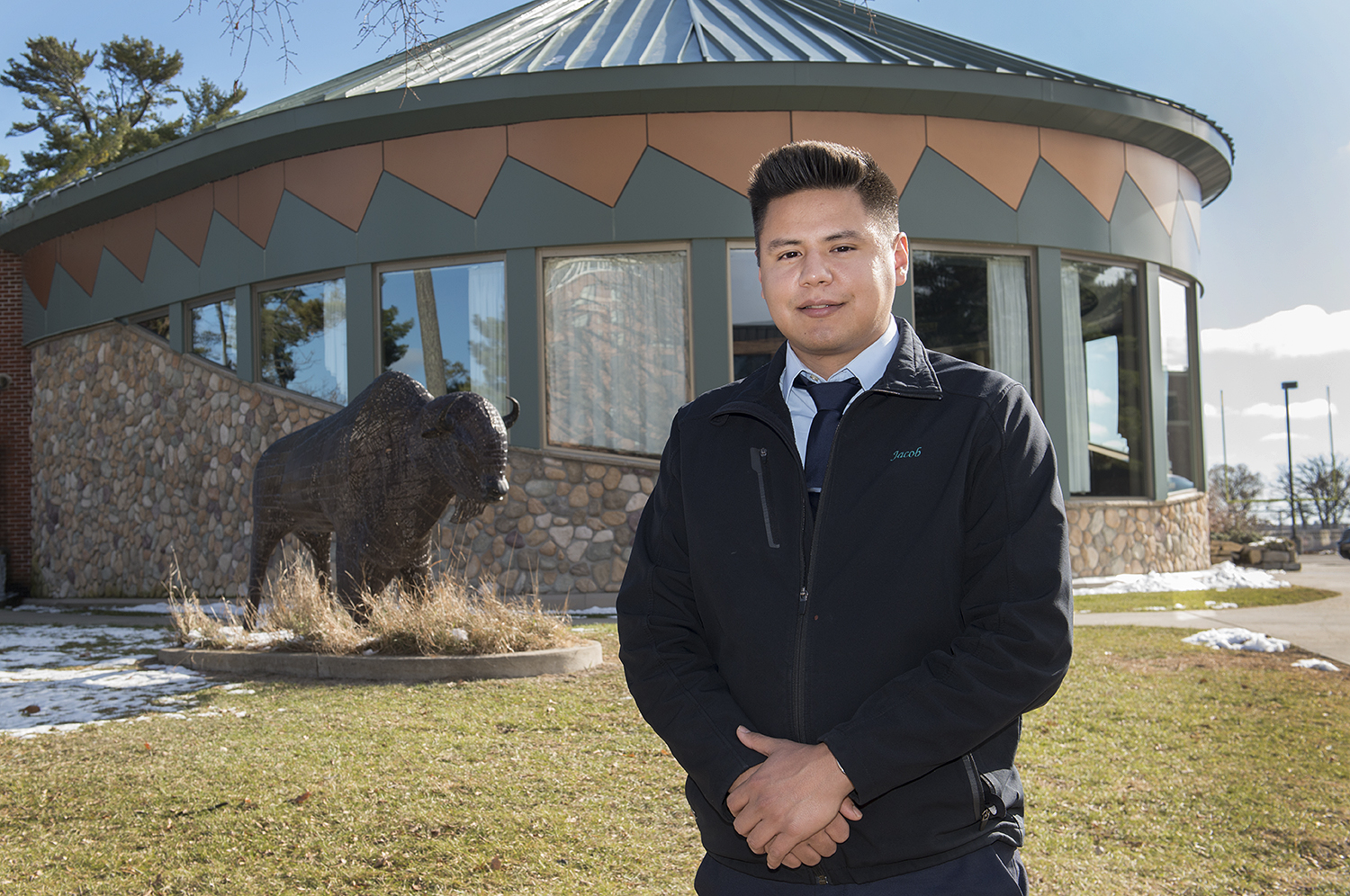 Bemidji State University senior Jacob McArthur hopes to help other students reach success through his recent appointment as student ambassador for the American Indian College Fund. The program trains American Indian and Alaska Native students to serve as educational leaders in their communities.
During the Spring 2020 semester, McArthur took advantage of Bemidji State's dual-enrollment agreement with White Earth Tribal and Community College and transferred to BSU to begin pursuing a bachelors degree in business administration. Now McArthur is simultaneously working toward his master's degree in BSU's accelerated MBA program and hopes to one day pursue his doctorate.
On top of being a hardworking student and father, McArthur is excited to be a member of the 2020-2021 American Indian College Fund student ambassador cohort. In this role, he will raise awareness about the various scholarships and student services offered by the fund and attend trainings to learn various leadership, public speaking and career skills.
"As a college fund student ambassador, I now have the perfect opportunity to support my fellow students along in their educational journey by sharing what I have learned so that they too can achieve academic success," McArthur said.
Grounding himself in the Seven Grandfather Teachings of Anishinaabe culture, McArthur says his success in education has provided numerous possibilities for his future.
"The Anishinaabe have seven traditional teachings or values, and they each influence the way I live my life," McArthur said. "One of those values is nibwaakaawin, which means wisdom and the ability to use one's wisdom to make good decisions, to share wisdom with others and continue to gain wisdom through education and experience. All of our traditional values are important but this value in particular is reflected in my ambitious educational endeavors."
In additional to training opportunities, the college fund trains its student ambassadors to be leaders in their communities, which is something McArthur aims for.
"My ultimate goal is to build a resume strong enough so that I can successfully run for Tribal office and work for the betterment of my people and our communities," McArthur said. "Amazing opportunities are out there but it's up to you to seize them. I have lived by these words beginning two years ago and my life has taken off and my future has never felt brighter."
McArthur lives near Naytahwaush, Minnesota in the White Earth Nation and is the information technology coordinator at the White Earth Tribal and Community College.
Links
2021-B-078