Bemidji State University graduate Hanna Moher has loved hockey ever since she was a young girl growing up in Toronto, Ontario. Shooting pucks, skating on the pond and competing against her older brother in their driveway was a part of her day-to-day life.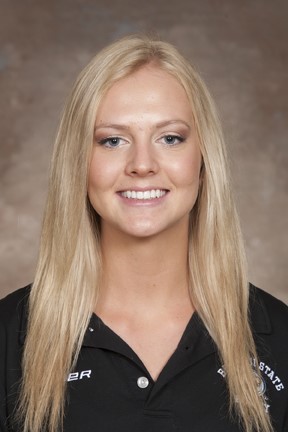 A forward for Bemidji State's women's hockey team from 2012-2016, Moher felt a strong sense of support from her classmates, professors and the community.
"To me it felt like the whole community really cared about the success of the women's hockey team and supported us as equals to the men's team," Moher said. "This is something so special that I know isn't present in all programs out there and I really commend this tight-knit community for their relentless support."
After graduating with a bachelor's degree in business administration, Moher continued playing hockey professionally for the HV71 ice hockey team in Jönköping, Sweden. She simultaneously began earning her master's degree in business administration specializing in international marketing. In June 2017, she was invited to attend the Swedish Women's National Team Pre-Olympic Training Camp.
When Moher left high-level hockey in July 2017, she struggled finding another career path and realized that many female athletes often face a similar dilemma. This experience inspired her to launch Post Game Professions, a service that connects female athletes to employers.
"I realized there is a major gap for many of us leaving sports," Moher said. "I knew that female athletes would be amazing hires. They are an underserved, untapped market of hard-working, dedicated individuals and companies desire to hire them, but do not know how to find them."
Now athletes and employers can connect using the Post Game Professions website. The site offers former and current woman athletes access to job hunting resources and highlights how their athletic experience can benefit employers.
During her time at Bemidji State, Moher was heavily involved with the Marketing Assistance and Research Solutions, a market research agency staffed by BSU junior- and senior-level students directed by Dr. Kelly LaVenture, associate professor of business administration. It was through this experience that Moher learned critical skills related to the work she is doing now.
"I was able to pick up work experience while studying and playing hockey," she said. "The schedule was flexible around mine and it was my first real work experience in the marketing research area. Kelly is an amazing example for young women striving to be strong, professional and unapologetically bright in an otherwise homogenous setting. She has made a lasting impression on me and challenged me to push my skills beyond what I could have ever imagined possible."
A trailblazer and entrepreneur, the former Bemidji State forward is grateful for the opportunities she had during her undergraduate career and emphasizes the importance of getting involved in the campus community.
"My first piece of advice to current students is to take on any internship experience you can," Moher said. "Hands-on experiences hold so much more weight once you enter the job force. Secondly, network. Find professionals who work in the field that you are interested in and politely ask to take some of their time to learn about their journey, learnings, failures and advice with no self-agenda. You never know where these connections will lead you later in life."
Contact
Links
2021-B-098