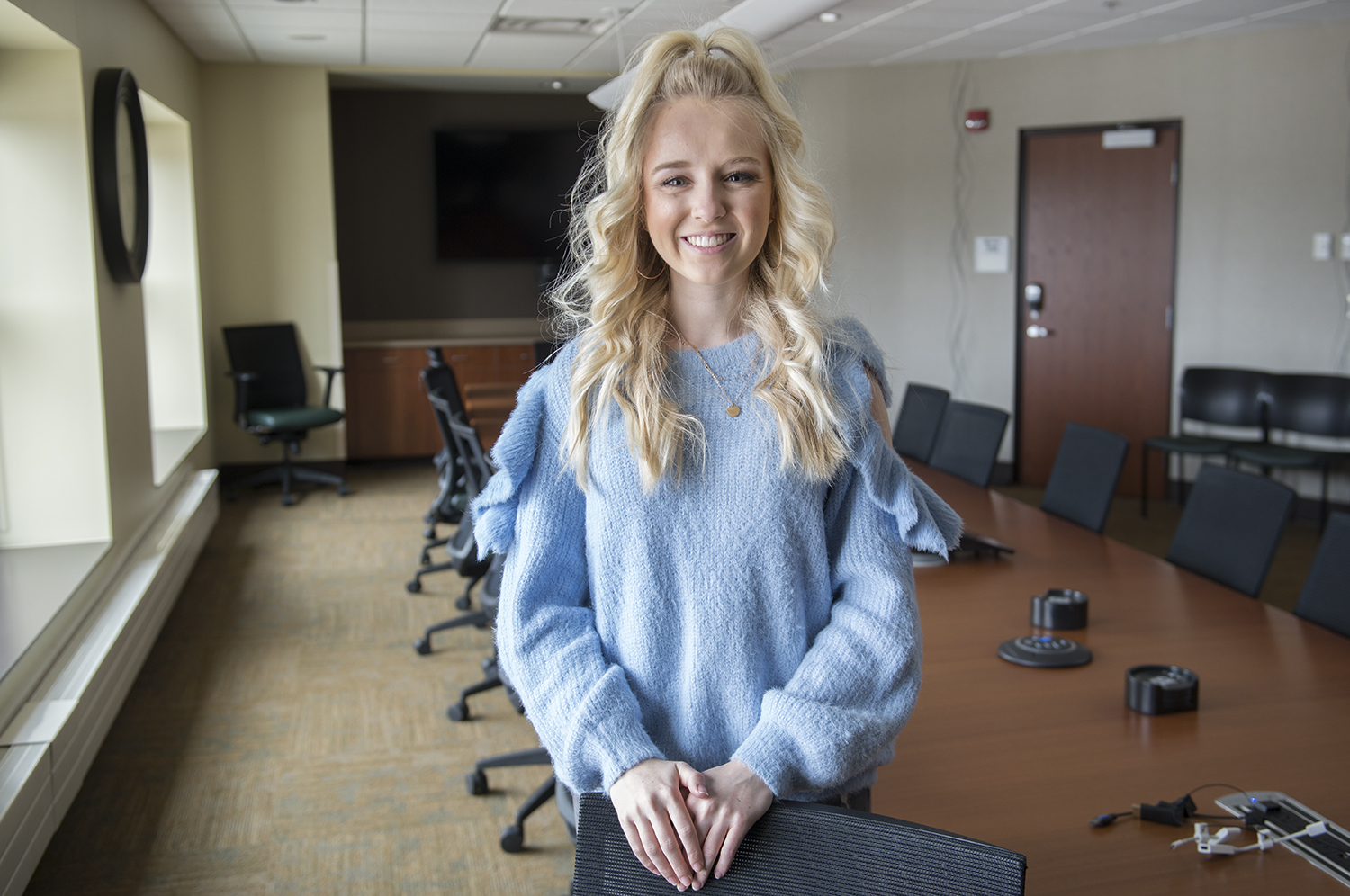 Bemidji State University's Department of Business Administration offers bachelor's and master's programs with an array of student opportunities designed to help students develop real-world skills.
For more information, contact the BSU Office of Admissions at admissions@bemidjistate.edu, call (218) 755-2001 and or visit www.bemidjistate.edu.
Alongside her busy class schedule and extracurriculars, Bemidji State University junior BreAnnene Willson is pairing an ancient skill with a modern profession and getting the experience of a lifetime.
Through a marketing internship at American Time, a small company in Dassel, Minn., Willson, a business administration major with an emphasis in marketing and entrepreneurship, is helping consumers interact with time and the systems that measure it. The company maintains more than 26,000 timekeeping systems, including clocks, alarms and locks and Willson is working with team members to build a new website and develop marketing materials for the company's software.
"It surprised me how extensive working with clocks could be," Willson said. "There are a lot of moving parts to my work at American Time, but it creates different opportunities which is what I like most about this field. Ultimately, I've learned to be more adaptable – not only as a student but also as an active team member in the company in the current climate."
Originally from Thief Rivers Falls, Minn., Willson chose to attend Bemidji State for the strong sense of community she felt when she was applying for admission. As soon as she noticed the welcoming attitudes of her peers and teachers, she knew it would be a great fit.
"I think it's important to enjoy the environment that you're in," she said. "Especially when interacting with the community around you."
As a student, Willson strives to contribute to the campus community by getting involved in numerous recruiting efforts and student activities. She is the current president of the American Marketing Association, serving as a member on the campus activities board and working as a University Ambassador in the Office of Admissions and a content creator with the Office of Communications and Marketing.
"I really enjoy being involved with something that is bigger than myself, and giving back to Bemidji State and our community is very fulfilling," she said.
Grateful for the chance to expand her skills at American Time, Willson appreciates the university's efforts to keeping students up to date with opportunities in the field.
"As a busy student, it wasn't something that I put much thought into," she said. "The resources they provide kept those opportunities at the forefront of my mind," Willson said. "This internship has given me an authentic view of what it's like to work in the field, which has created new possibilities for me career-wise."
Link
2021-B-134