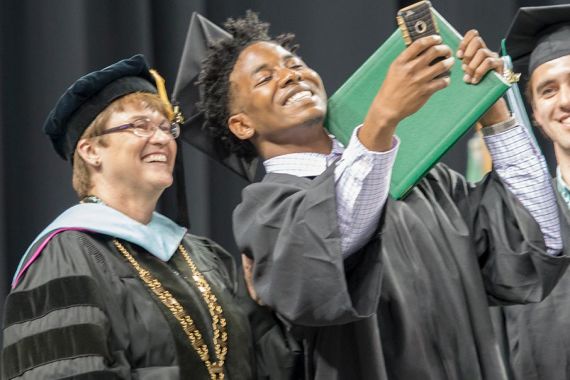 More than 1,000 college graduates have been invited to celebrate the beginning of the rest of their lives at Bemidji State University's 102nd Commencement ceremony, May 7.
Due to the COVID-19 pandemic, the university will hold three in-person graduation ceremonies at Bemidji's Sanford Center – one for each of the university's colleges. Graduates were not required to attend the ceremony and not all graduates will be in attendance.
The ceremony to honor the 222 graduates from the College of Arts, Education and Humanities will kick off the day at 9 a.m. followed by the ceremony for the 341 College of Business, Mathematics and Science graduates at noon. The 450 College of Individual and Community Health graduates will close the day with a 3 p.m. ceremony. Each ceremony will last about an hour and will be live-streamed on Facebook, Vimeo and YouTube.
The event is closed to the public. Each graduate participating in the ceremony could request two guest tickets.
The Bemidji State University campus grounds will be open to the public for self-guided tours and visits throughout May 7. No permits are required in university parking lots on Commencement day. Campus buildings remain closed to the public as part of ongoing COVID-19 mitigation efforts.
All events were coordinated following COVID-19 guidelines set forth by the State of Minnesota and the Centers for Disease Control and Prevention.
Online Streaming
Commencement will again be available through a live online video stream. The stream will be available at the start of each ceremony, Central time; viewers are encouraged to visit the stream in advance to ensure that necessary plug-ins are present and properly functioning.
Commencement Speakers
Bemidji State University class of 2021 will hear from a number of speakers both in-person and virtually including President Faith C. Hensrud, Provost and Vice President Allen Bedford and Bemidji Mayor Jorge Prince.
Each ceremony will also feature a student speaker:
Ashley Martin, a psychology and political science graduate from Soldotna, Alaska; College of Individual & Community Health.
Jartue Kroma, master of special education student from Brooklyn Park, Minnesota; College of Arts, Education & Humanities.
Kristin Farris, a sports management and mass communication graduate from Goodridge, Minnesota; College of Business, Mathematics & Science.
Tobacco-Free Campus
BSU's visitors are reminded that the campus is tobacco-free. More information about the university's tobacco-free policy is available online.
Calendar
May 7 – 9 a.m, 12 p.m. & 3 p.m. – Bemidji State University's 102nd Commencement ceremony. Location: Sanford Center, 1111 Event Center Drive NE, Bemidji. Closed to the public.
Contact
Links
2021-B-170