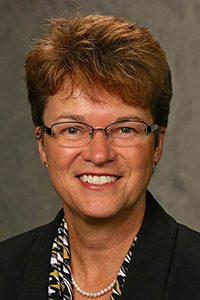 President's Message
This edition of the BSU magazine feels like a time capsule of sorts from my first six months as president. The photos and stories remind me of all that has happened in so short a time and, also, what an amazing institution I'm privileged to lead as a partner with all of you.
Although the pace often has been intense, I have felt extremely welcomed by our faculty, staff and students, by the Bemidji-area community and by you, our alumni and friends. Everything about the experience so far tells me my decision to join Bemidji State University and Northwest Technical College was the right one, and I fully expect to look back on it as my "best decision ever."
My inauguration was especially meaningful, and the theme we chose for the occasion —  "Building Bridges, Transforming Lives"  —  continues to resonate as I join with colleagues to begin work on a new strategic plan for the university. We have a tremendous opportunity to clarify and integrate our fundamental strengths and goals in such areas as promoting all aspects of diversity, serving the region through leadership in sustainability, and, above all, intensifying our focus on the success of our students.
Our ability to achieve these objectives will depend on many of the endeavors highlighted in this magazine, not least of which is the investment you made in the Imagine Tomorrow fundraising campaign. We also look to the work of our talented students, exemplified by the "Students to Watch" and the competitive and academic success of our student-athletes. And we are constantly inspired by our alumni and their appreciation for BSU's role in their lives, as reflected in the stories of Leah Pigatti and Dale Greenwalt and in the many Class Notes.
Thank you all for your continued support of Bemidji State University. It means a great deal to me, our employees and our students. I look forward to meeting you at our events on and off campus.
Best wishes,